Atmospheric, balanced, clutter-free
Good kitchen gadgets make chores a joy and enhance the home
The kitchen is a communication centre and creative hub, so it's often the heart and soul of the home. This means kitchens need to be equipped with smart and sleek fixtures. Find out more on creating a modern, uncluttered, feel-good atmosphere here. And how to make work at the stove and the sink even more efficient with high-quality kitchen accessories.
Optimum workflow: Making work effortless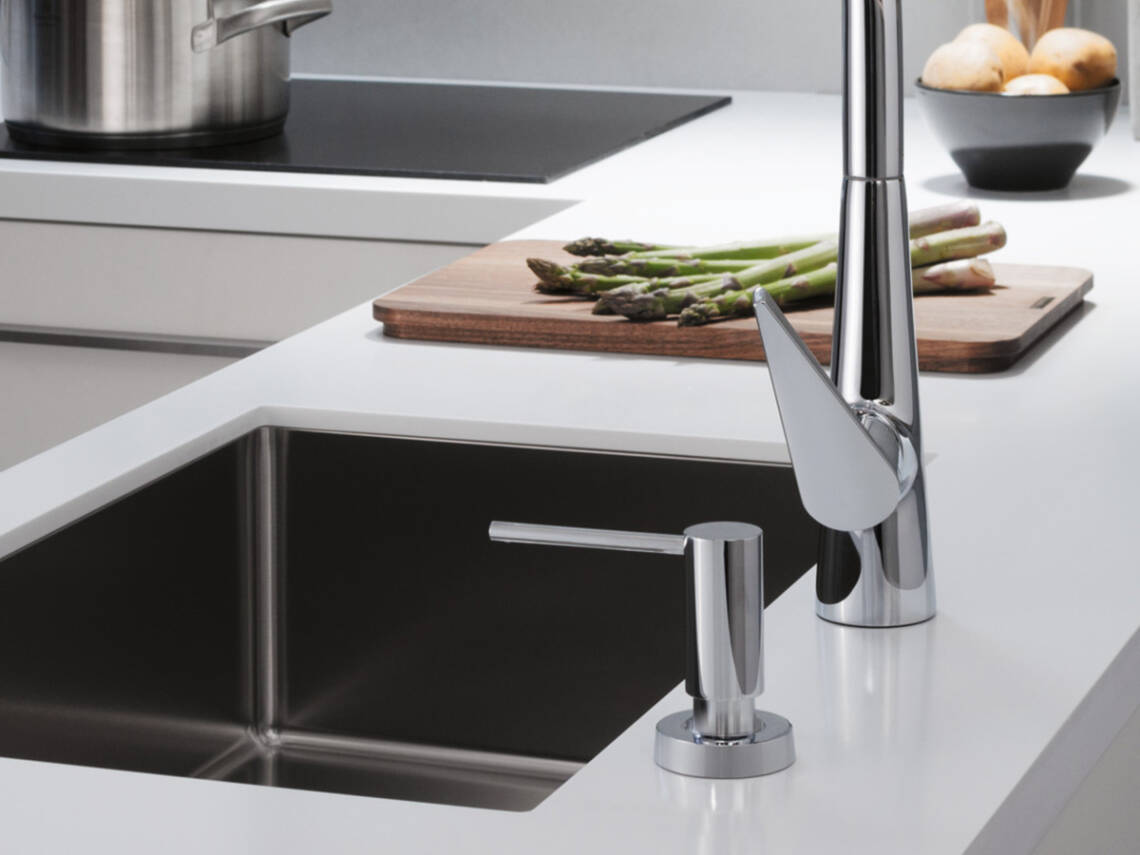 People like to be in the kitchen because of the great atmosphere, and they want a clear overview of all workstations. Everything needs to be quick, easy and convenient. Especially once the visitors have arrived or the family tribe are waiting with empty mouths to fill their stomachs. There needs to be a sense of orderliness at the stove, on the work surfaces and around the sink unit. The latter is perfectly positioned in the heart of the kitchen with cloths, brushes and detergent always to hand. So all movements can flow and kitchen work can be fun. That's what we like to call an optimum workflow.
Kitchen accessories: Looking good and simplifying routines 
The rule for kitchen appliances also applies to accessories: People love reliable functionality and attractive design. Anything that looks and feels good and makes day-to-day life easier. No matter whether it's a colander, paring knife or cheese grater. The
hansgrohe cutting boards
also have their work cut out in the kitchen. The
high-quality natural products from the Black Forest innovators
are beautifully flat and made of various kinds of wood. Walnut or oak, every board is a
unique piece with a unique grain
. The high-quality wood features a smooth surface that is gentle on knives and its high level of tannins has an
anti-bacterial
effect. The cutting board is at its best when matched with a hansgrohe sink to optimise workflows. Its shape fits the single and double sinks like a glove. 
What can the hansgrohe board do?
Placed on a sink, it transforms into a convenient shelf.
It has a guide edge that can be used to slide it along the sink rim. 
It can be used as a draining board and shelf when washing up.
It is a solid and sturdy, high-end brand quality kitchen accessory with anti-bacterial properties.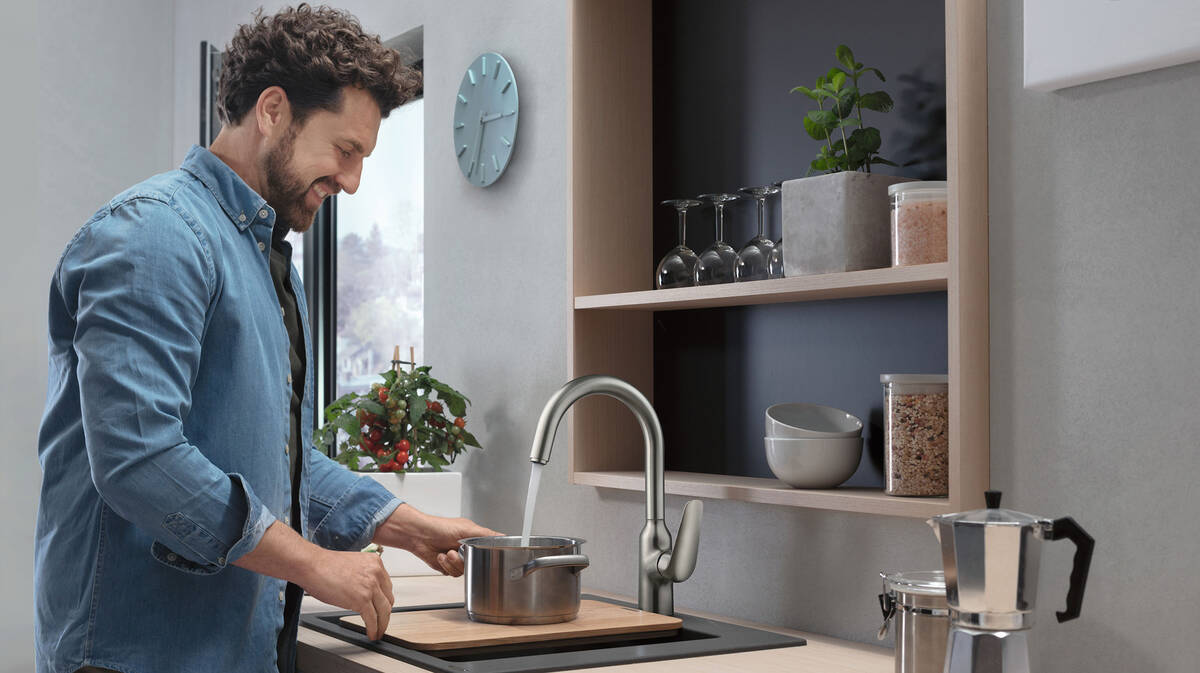 Tips for open-plan kitchens and hacks for a tidy worktop
Quality kitchen accessories look best when their worktops are clutter-free. But how do you prevent clutter? Put away the items you don't use on a daily basis. Wall and base units are worthy storage spaces. Or you can tuck things away in the low-cut recesses in the worktop. Otherwise, why not take a look at modern kitchen wall tidies. Your utensils pretty much tidy up themselves here: either hanging from hooks or defying gravity in magnetic boxes.
Tidiness in the base units, more room to work at the sink
Do you have a pull-out kitchen tap but your storage space under the sink is limited? If cleaning products or buckets are obstructing your hand spray's hose from hanging around, we have another kitchen hack for you: the
hansgrohe sBox
. The shower hose can be smoothly pulled out and retracted in the box. It cannot jam or get damaged by any utensils in the vicinity. This kind of clarity creates a sense of practical convenience.
Making kitchen chores effortless: A how-to guide
The kitchen sink: Making it an aesthetic comfort zone
The laboriousness of washing up is a thing of the past. The sink unit has become a tidy kitchen workspace with functionality and design to match. And it's one of the most widely used parts of the kitchen, by the way. In cosy open-plan kitchens, people want the sink to be nice and convenient. It all starts with the
sophisticated kitchen tap,
although it doesn't end with the
stylish kitchen sink
. Puddles in the draining area, ugly stains, worn-out dish cloths, damaged soap bottles: no thanks. Do you feel the same? Then you'll love this premium product:
A clean solution: the hansgrohe soap dispenser
Practical and elegant, the hansgrohe soap dispenser is flush mounted in the sink rim or worktop. Its round shape and the sleek design of its body blend in with the surrounding sink. This kitchen accessory helps you to use your detergent or hand lotion sparingly. The flexible pump head can be swivelled. It comes in a chrome or stainless-steel finish to match your hansgrohe tap. Once the dispenser is empty, it can be refilled with the supplied funnel in a few simple steps.
An ergonomic unit: hansgrohe sink combi units 
A
hansgrohe sink combi unit
comprises a
kitchen sink and tap with an innovative operating concept
. All components are made to match to speed up the workflow and make kitchen work easier. You can direct the water flow with smart control elements on the front rim of the sink for extra user-friendliness and
ergonomics in the kitchen
. Not to mention the aesthetic indulgence: The combi units have even won design awards (the iF Design Award 2017 & 2018). 
Attractive, user friendly, sophisticated: kitchen accessories
HGHBWMediaGalleryImageElementComponentModel (8810247881788@4)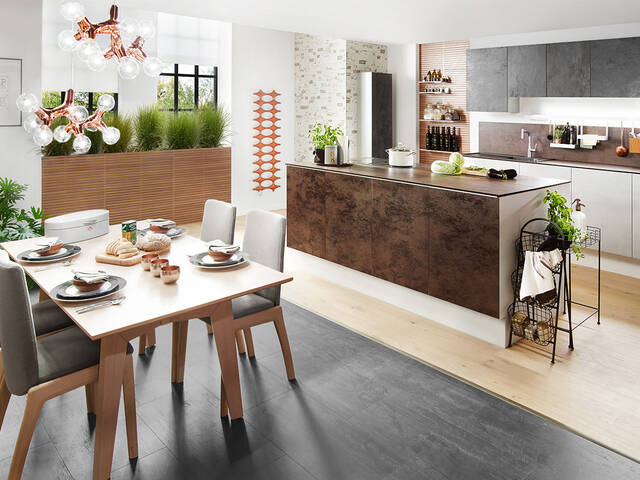 HGHBWMediaGalleryImageElementComponentModel (8810247980092@3)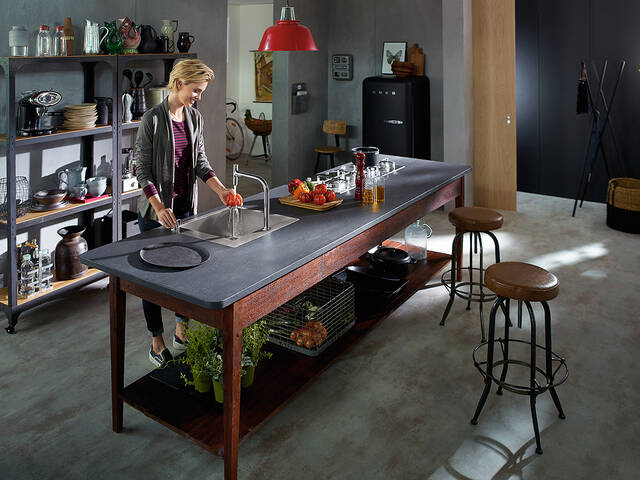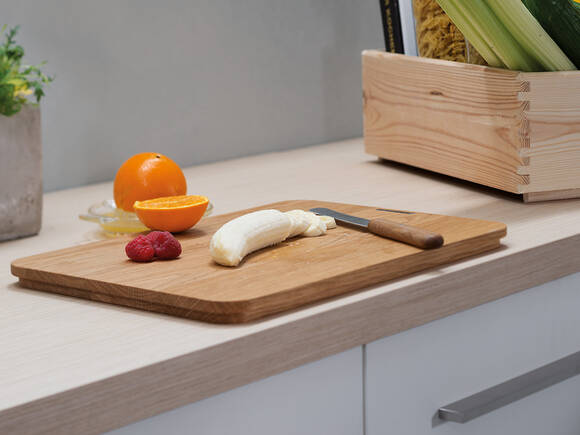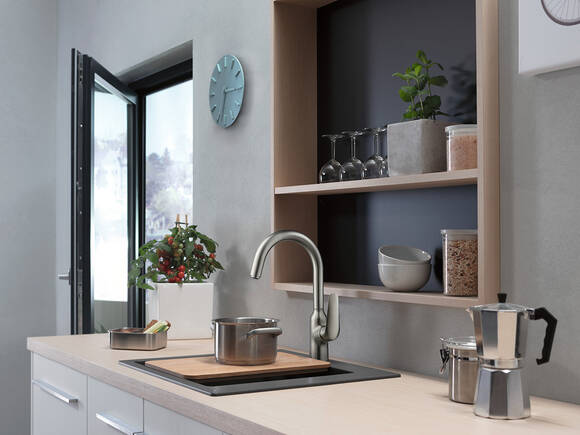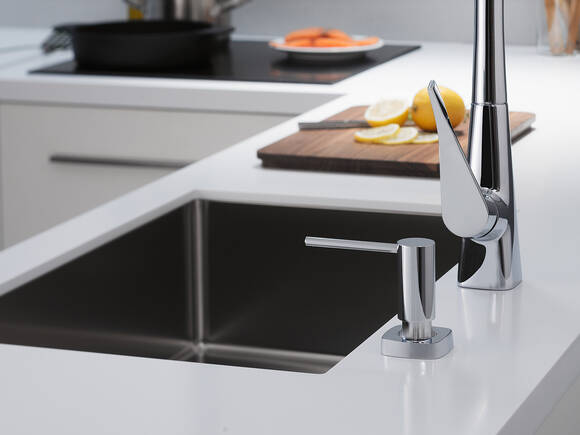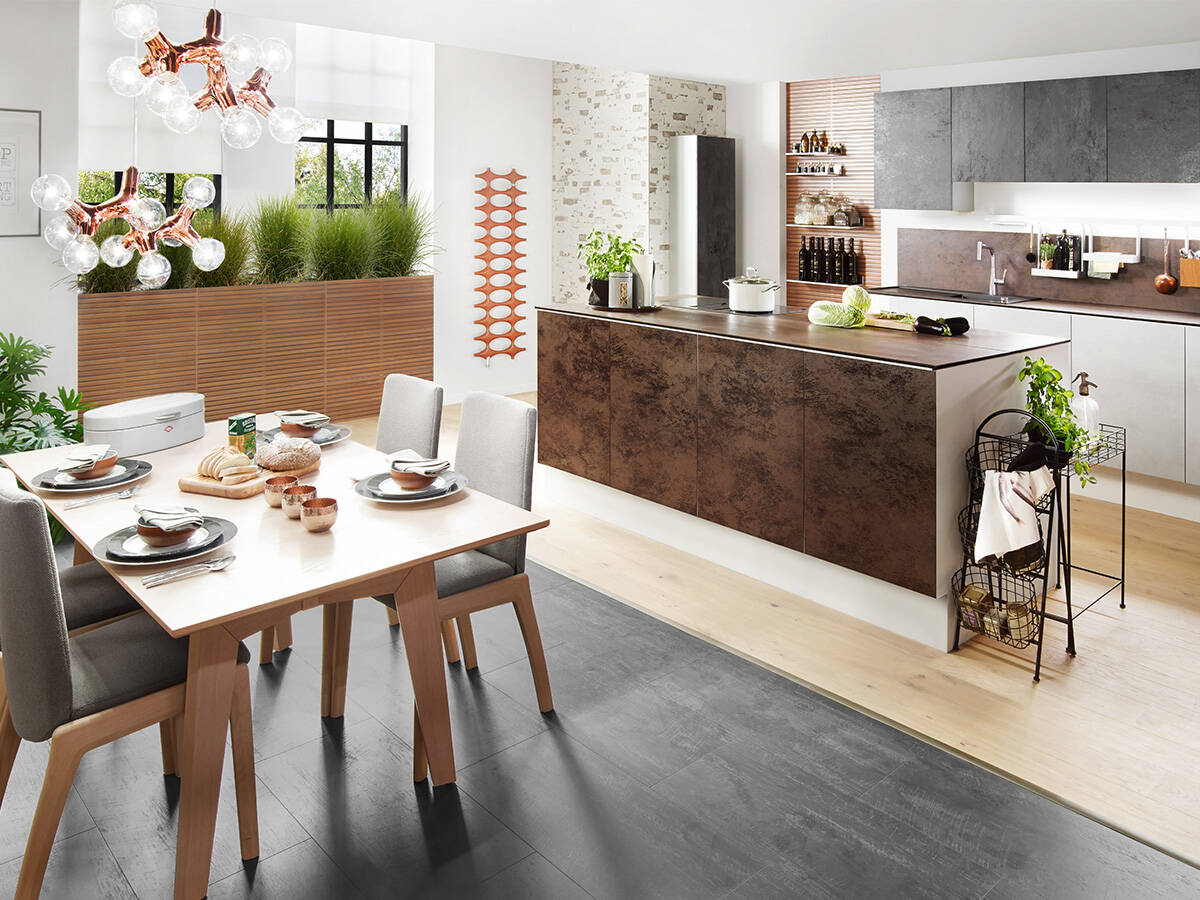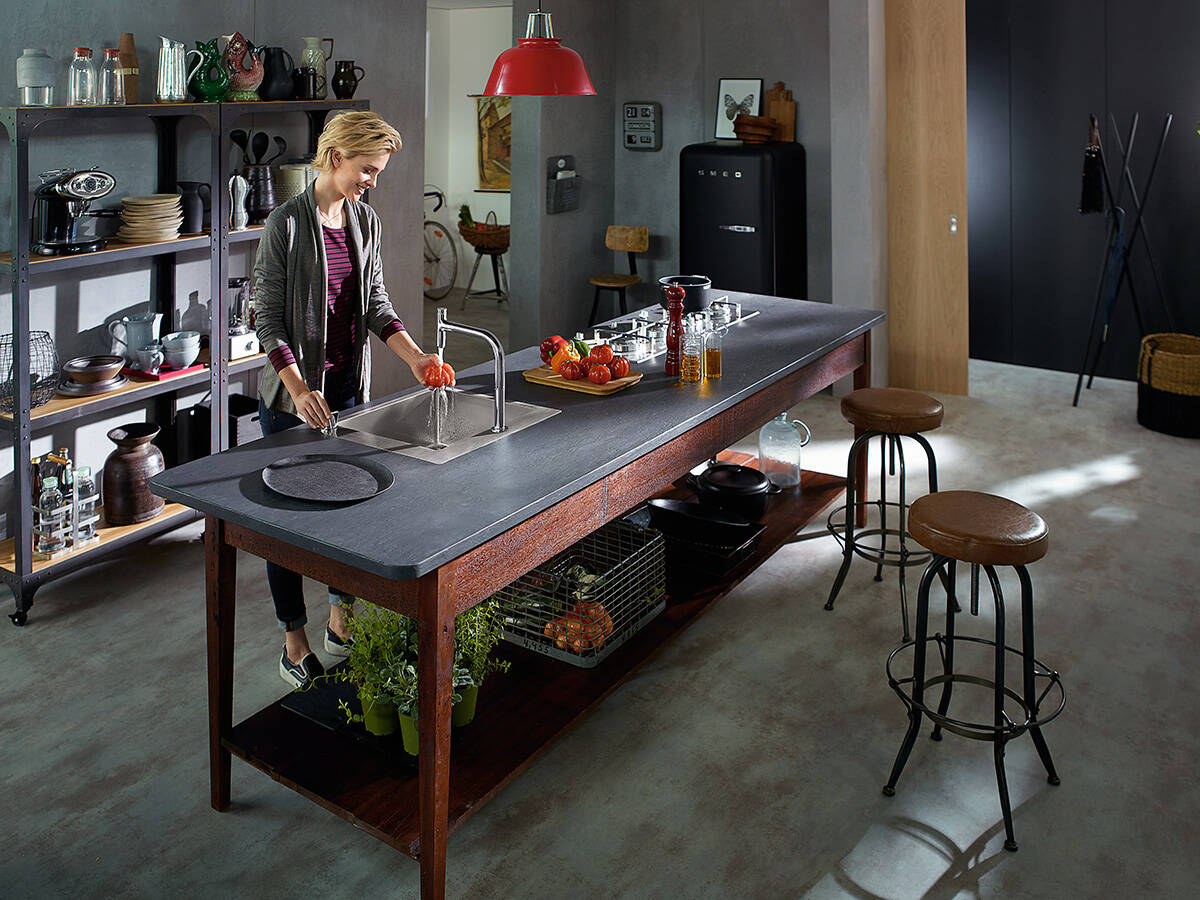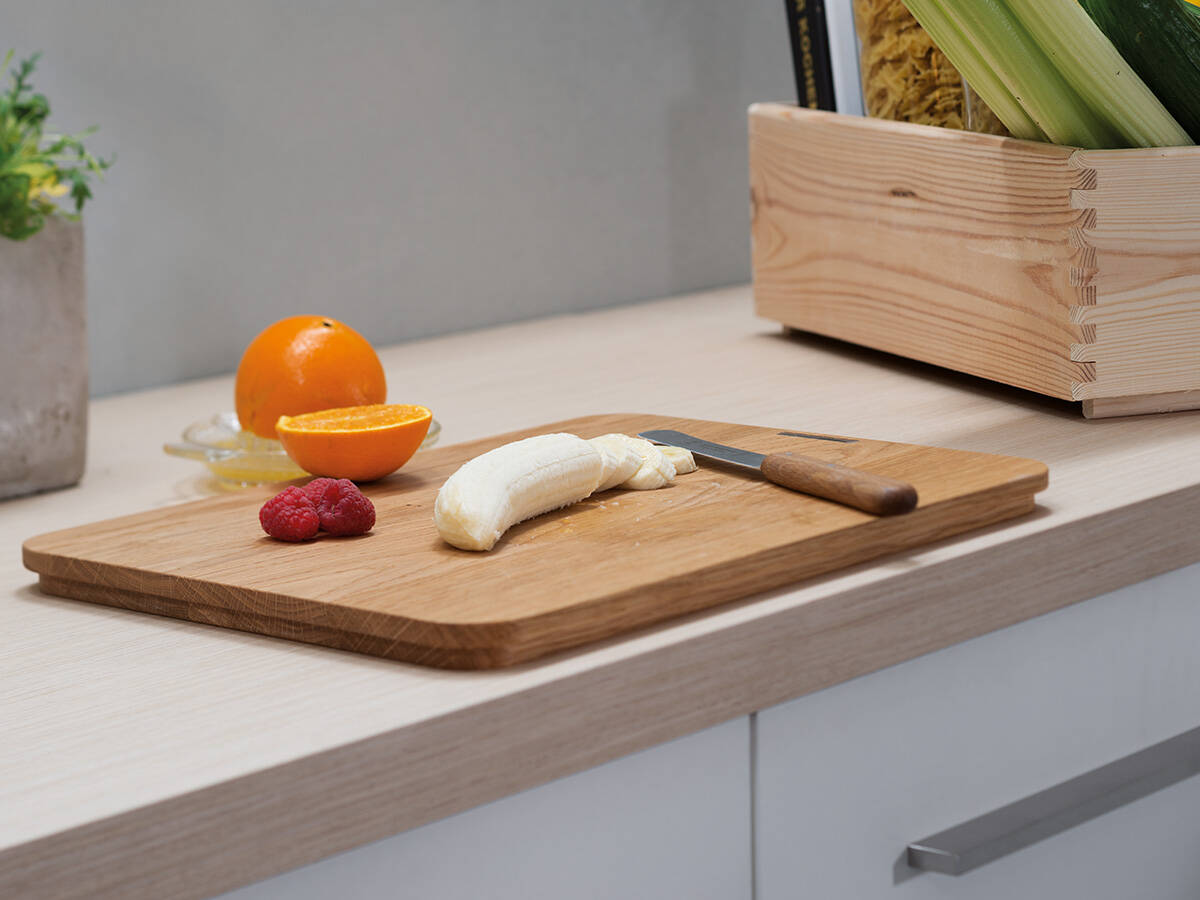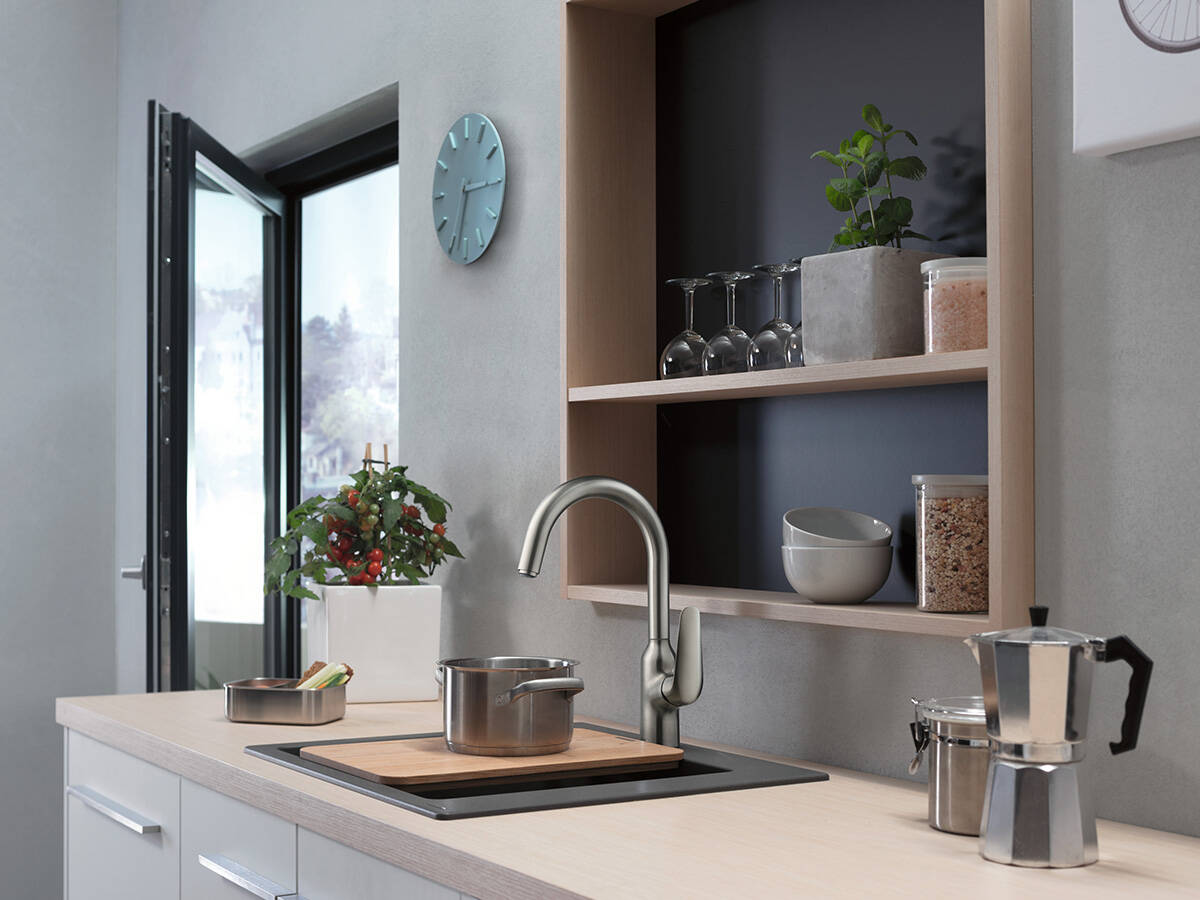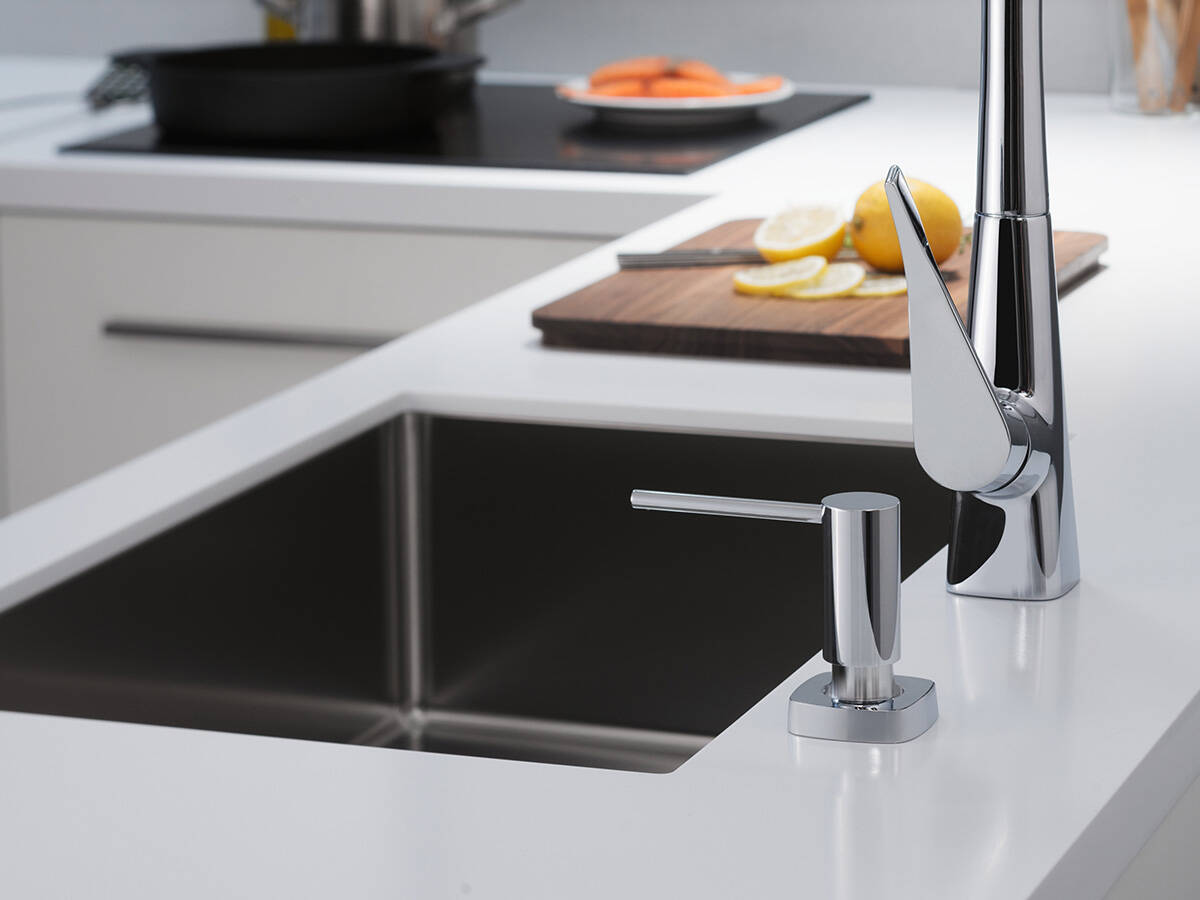 Trusted partners
Find bathroom showrooms in your area
hansgrohe Loading showroom data
An error occurred. Please reload the page.