Unfortunately, no results were found
Please adjust your filter criteria.
Taking rain showers to a new dimension
Delightful rain showers that are truly grandiose – experience Rainmaker
Experience the most enjoyable aspect of water: Rainmaker is synonymous with lavish showering indulgence that is a cut above the rest. The large rain showers turn your body care routine into a spa-like experience. Why not enjoy a warm tropical rain shower or an all-over mountain waterfall in your bathroom. Whether installed on the wall or ceiling, or in the form of a shower system (consisting of an overhead shower, hand shower and innovative Select thermostatic mixer): you will never want to shower any other way, ever again.
Enjoy every moment in the shower thanks to large spray discs
With water jets over an area up to 580 mm, the Rainmaker Select overhead showers offer ultimate showering indulgence. Choose from up to three jet types – Rain XL, Mono and RainFlow. Let your body be completely enveloped in soft shower rain, use a more focussed jet, or enjoy the gush spray.
Do you prefer to shower as a couple? If so, check out the Raindance Rainmaker: These are the greatest of the hansgrohe rain showers, in the truest sense of the word too. Seamlessly integrated into the ceiling, they create space for you to enjoy wonderful showers over a 680 mm area. With up to three jet types, you can enjoy being pampered by three rotating massage sprays, as well as focused or all-over rain jets.
Combine glitzy design with the convenience offered by Select
With a slender chrome frame and high-quality glass spray disc in white or elegant black, the Rainmaker Select rain showers are sophisticated designer products. They structure the space in your bathroom and enhance it both visually and functionally. To control this type of shower heaven, we recommend a ShowerSelect thermostatic mixer. Use this to change your jet type intuitively, by gently pressing the button on the thermostatic mixer: via Select technology. The RainSelect thermostatic mixer offers you added comfort, for example thanks to the built-in hand shower holder. It is the deluxe central control unit for the shower.
Can be custom-installed – and is quick to clean
Have the XXL overhead shower installed in line with your own preferences and to suit your bathroom architecture: the 580 version is mounted directly on the wall. The 460 version is attached to the ceiling or wall via a shower arm. Installation is on a base set, which conceals the state-of-the-art technology behind the wall. Cleaning is a breeze too. To do this, simply undo the screw and take off the spray discs of the Rainmaker overhead shower. Thanks to QuickClean, limescale residues can be removed very quickly.
Rainmaker Select Showerpipe – the shower system that is a cut above the rest
The Rainmaker Select Showerpipe will give your shower a new, impressive look as well as lots of sophisticated features, which you can control using the innovative ShowerTablet Select 700. Not only is this exposed thermostatic mixer the control system for the built-in overhead and hand shower, it also functions as a 700 mm long shelf made of glass and chrome. It has space for everything you need to enjoy a pleasant shower. The showerpipe can be installed on existing connections, making it the ideal solution for refurbishments and for enjoying lavish showers.
HGHBWMediaGalleryImageElementComponentModel (8802576630844@3)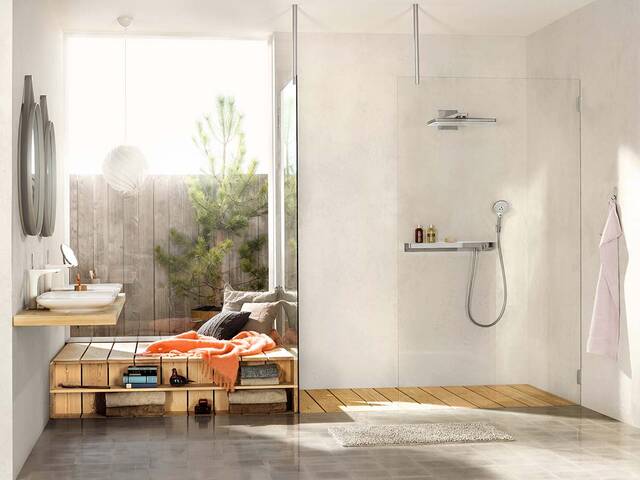 HGHBWMediaGalleryImageElementComponentModel (8802576761916@3)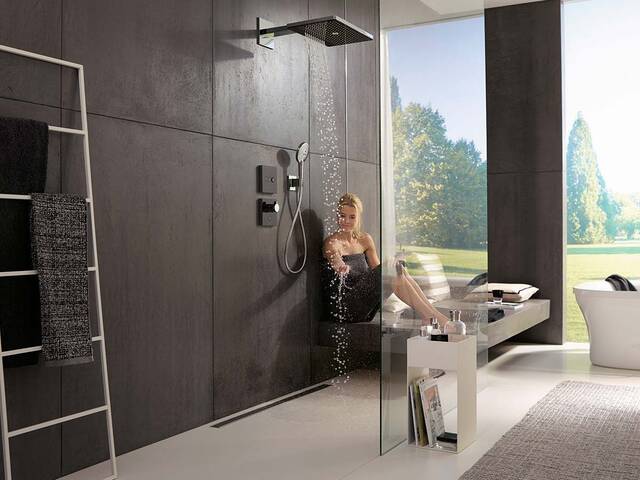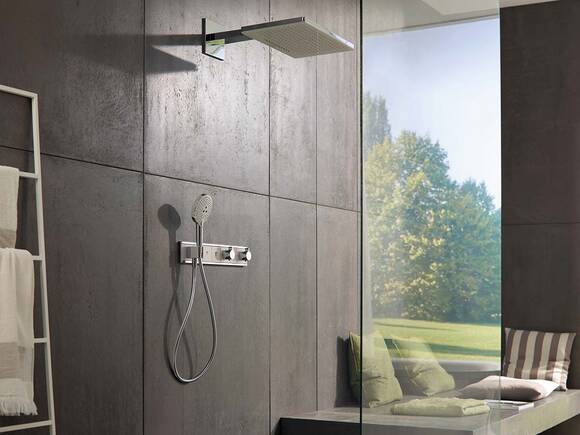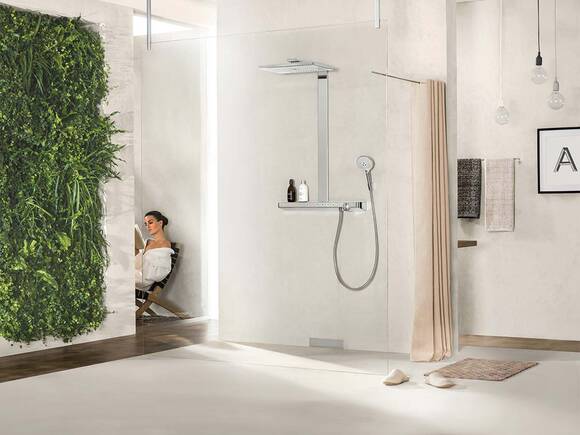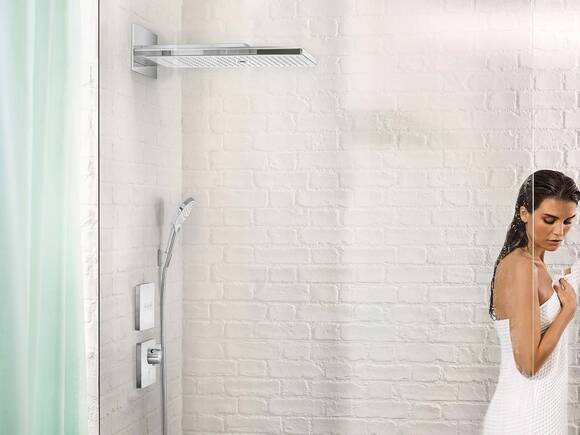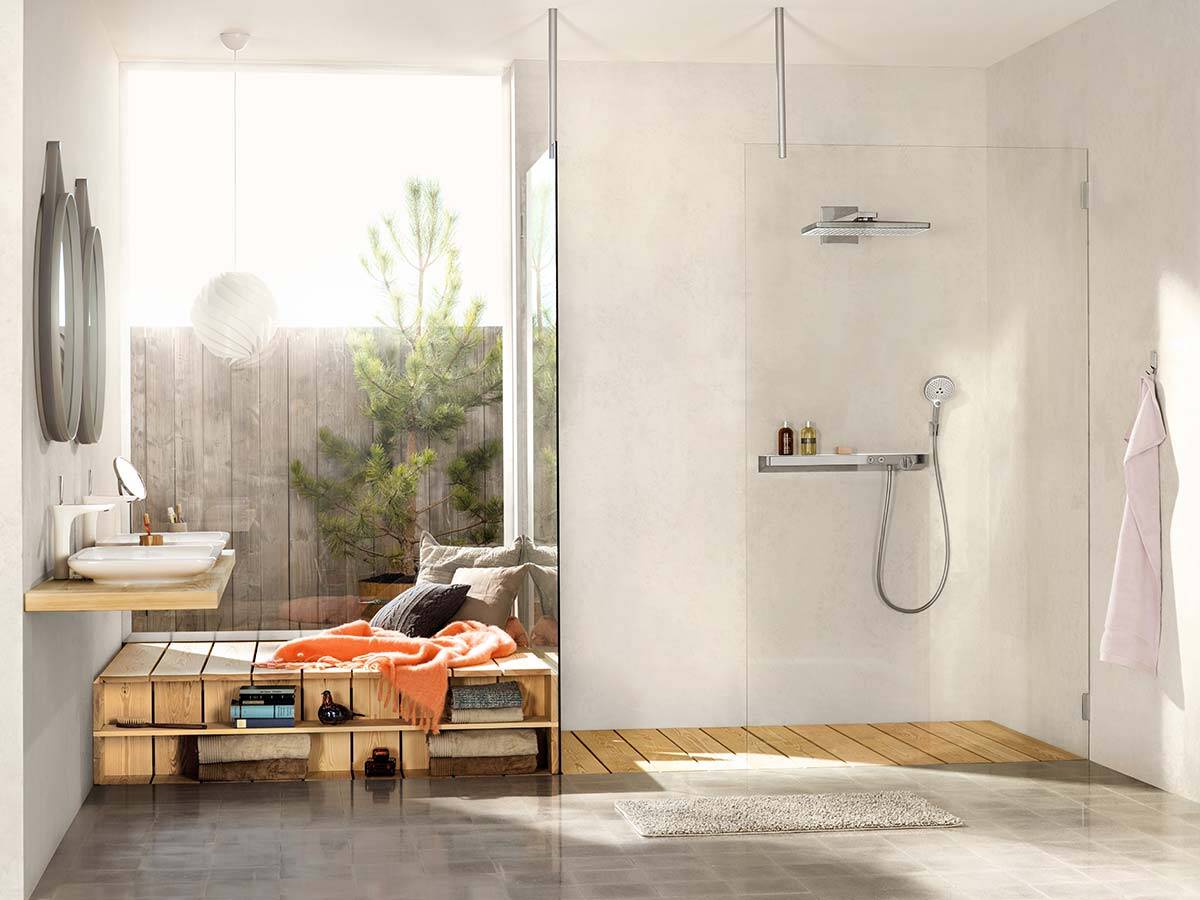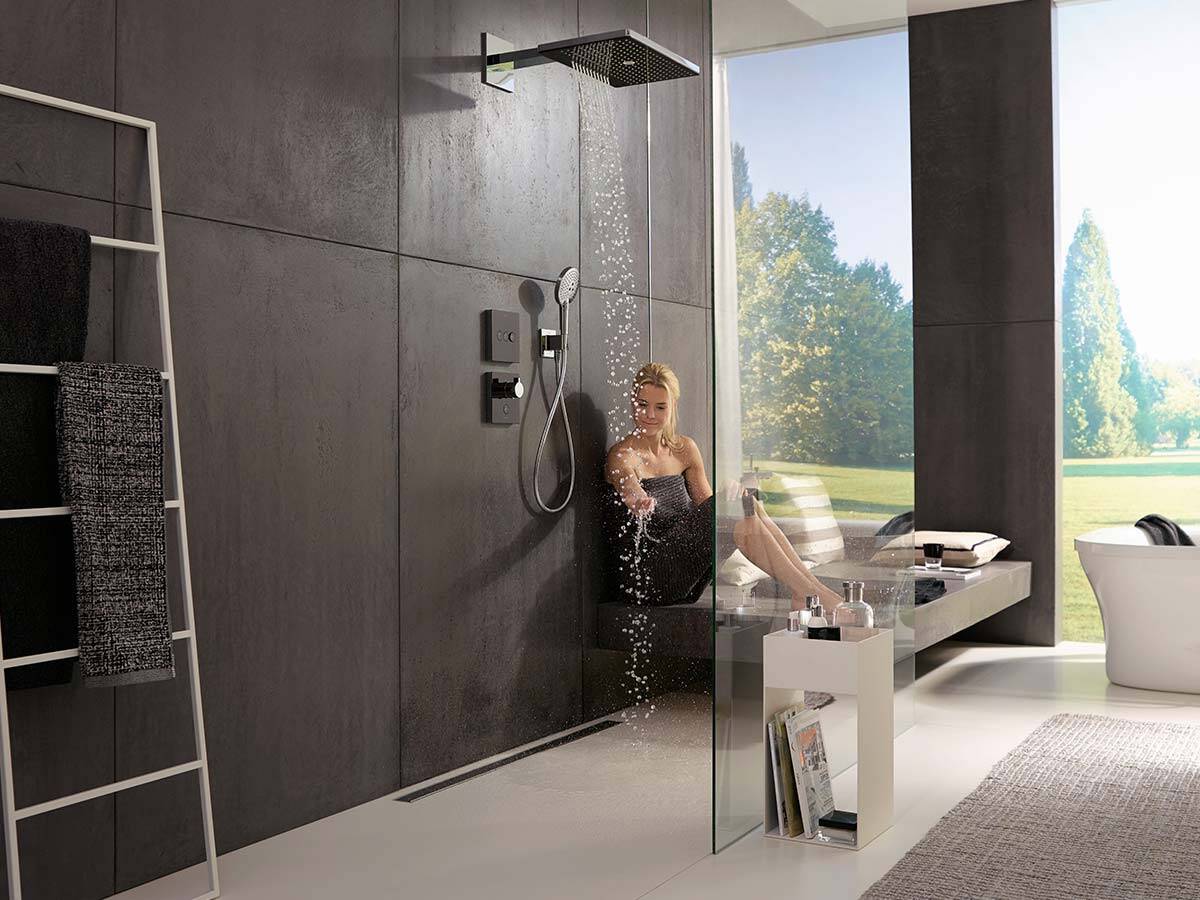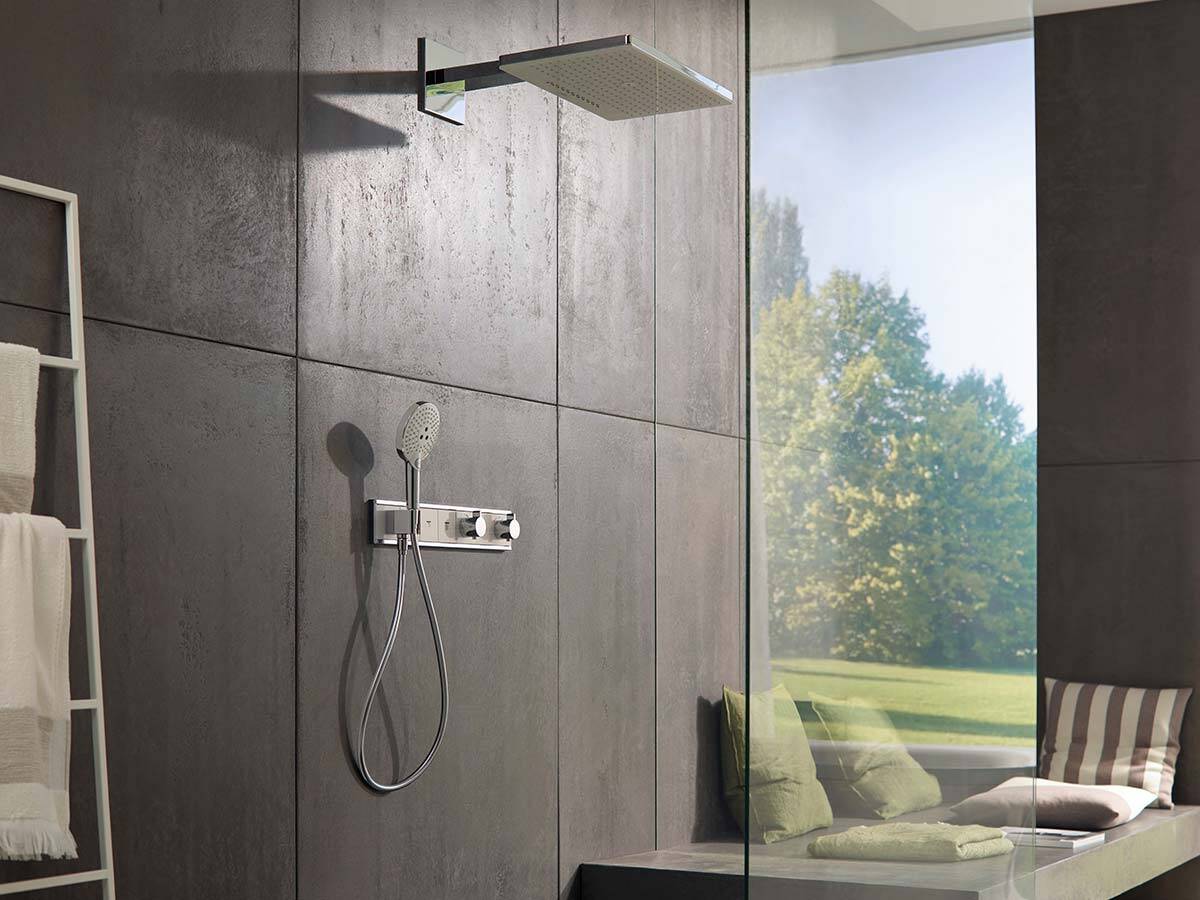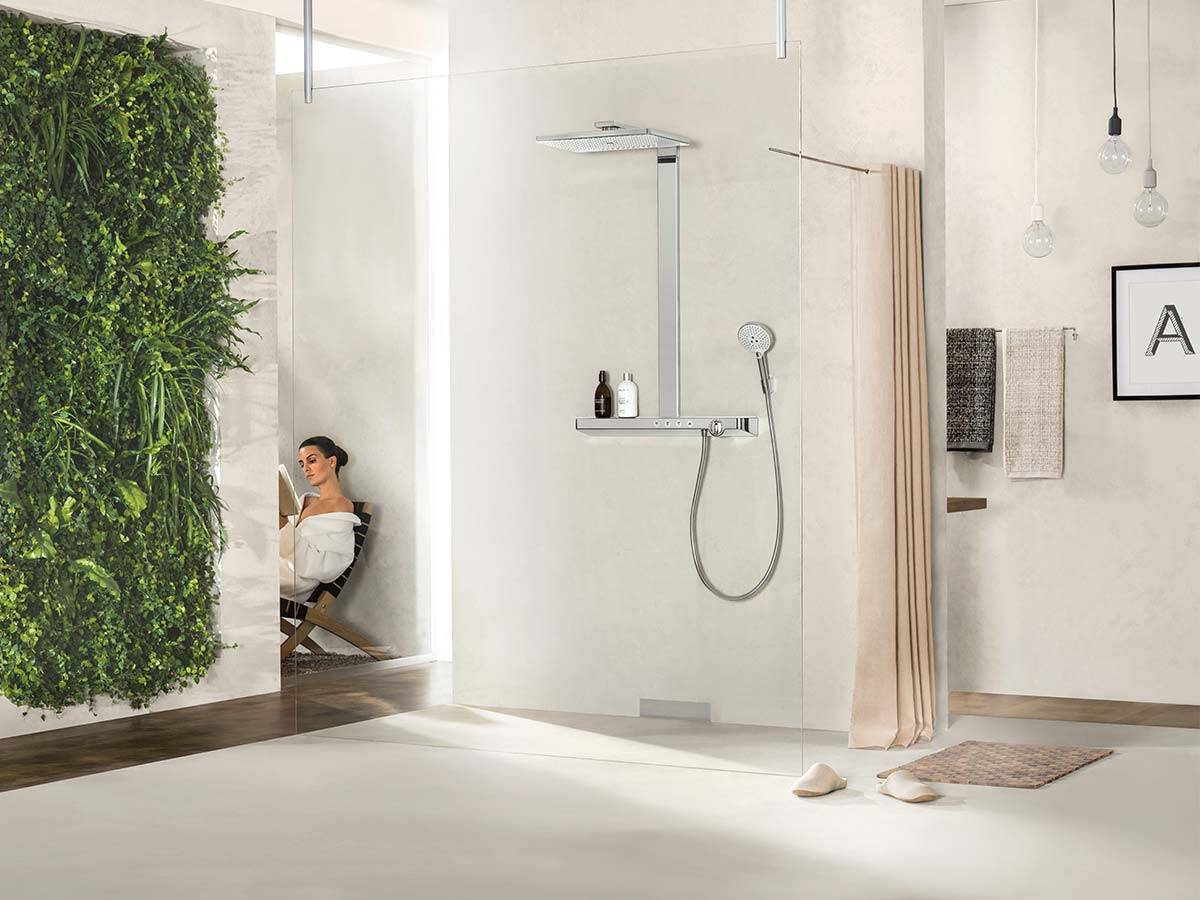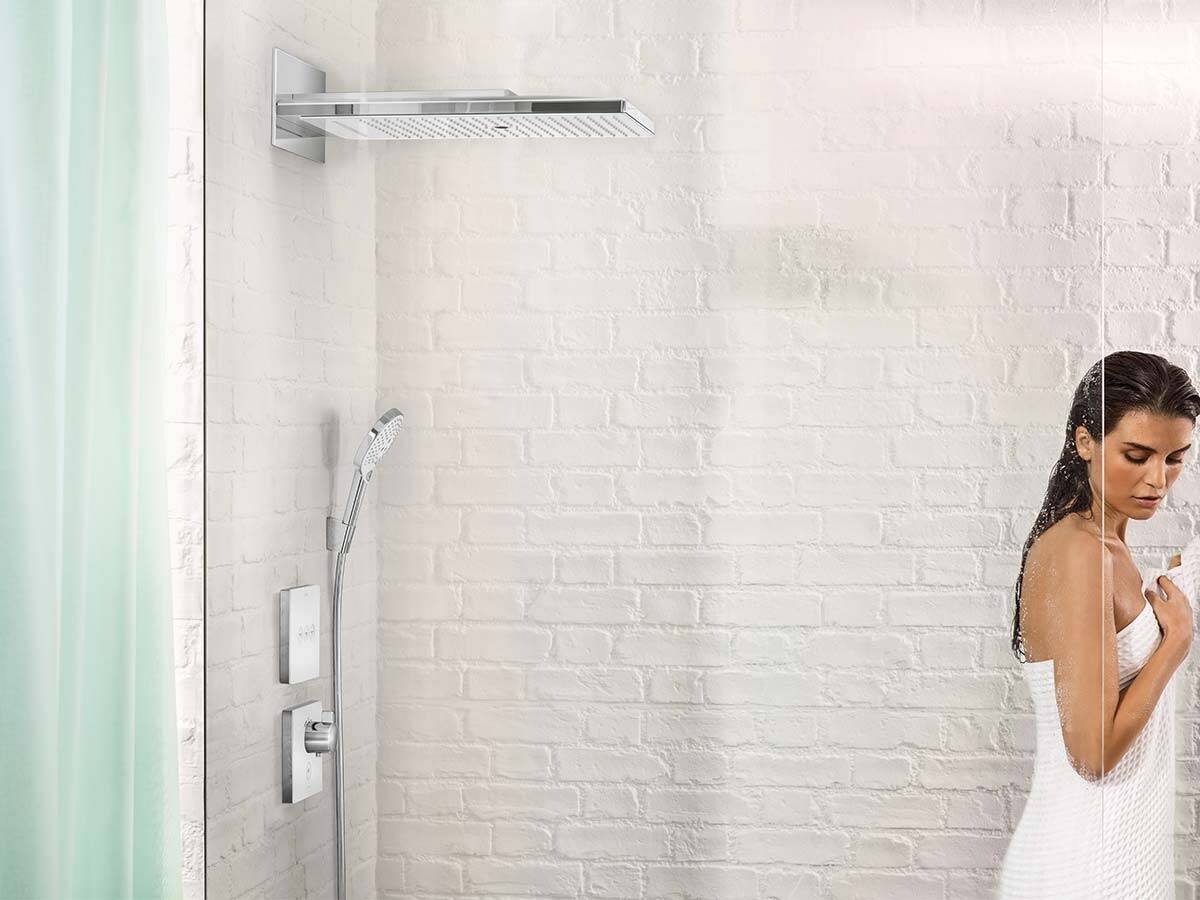 Trusted partners
Find bathroom showrooms in your area
hansgrohe Loading showroom data
An error occurred. Please reload the page.