Courage to add colour to the kitchen
A Neo-pop design adds elements of fun to your dream kitchen
This dream kitchen is bursting with dynamic interior design ideas: The wall colour is full of pure energy, as is the vibrant Neo-pop décor. The courage to add colour meets visual quiet zones: The purist sink combi unit's design is refreshingly discreet on the white worktop. And, finally, the light wood design for the flooring and dining area gives the space a harmonious feel.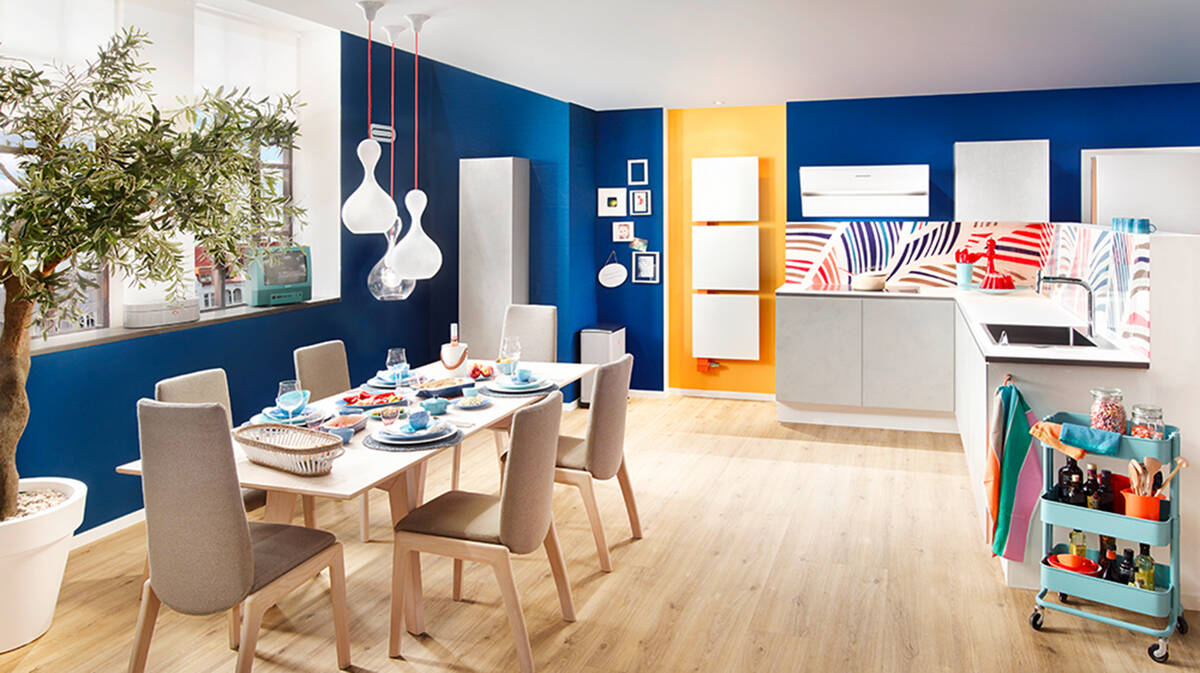 Neo-pop = vivid contrasts
Feel-good colours turn the kitchen into a vivid space
The dream kitchen for the whole family is like a natural paintbox, with colourful ingredients and utensils, a rainbow of fruit and vegetables with bottles and green plants. Not to mention knick-knacks for the kids. Do you want ideas on which kitchen appliances and wall colours work well together? Why not be bold and celebrate diversity? The wall colour emulates the sky through the window, a splash of lush yellow brings sunshine into your home, while light wood adds a serene touch to the room. Neo-pop style panels around the worktop and behind the sink also add lively and modern colourful contrasts.
There's no doubt about it, the cheerful look is balanced out with calming elements. And are complemented by the purist hansgrohe sink combi units, the white worktops and neutral cupboards. The clear design of the stainless-steel sink with the purist and minimalist innovative kitchen tap is an oasis of calm. It offers the choice between two jet types at the touch of a button on the spout and places the water flow controls on the front rim of the sink. The water can be controlled ergonomically and intuitively on the rocker lever. For efficiency in a visibly clean kitchen with splashes of Neo-pop colour.
Trusted partners
Find bathroom showrooms in your area
hansgrohe Loading showroom data
An error occurred. Please reload the page.