Industrial style in the kitchen
Dream kitchen with loft-style furnishings
Do you want to incorporate an urban loft vibe into your dream kitchen? Then the combination of metal elements, industrial flooring and splashes of black and chrome will definitely be to your taste. The cool atmosphere goes well with the minimalism of the hansgrohe sink combi unit. And so the kitchen becomes a practical cooking hub in an open-plan room with modern interior design.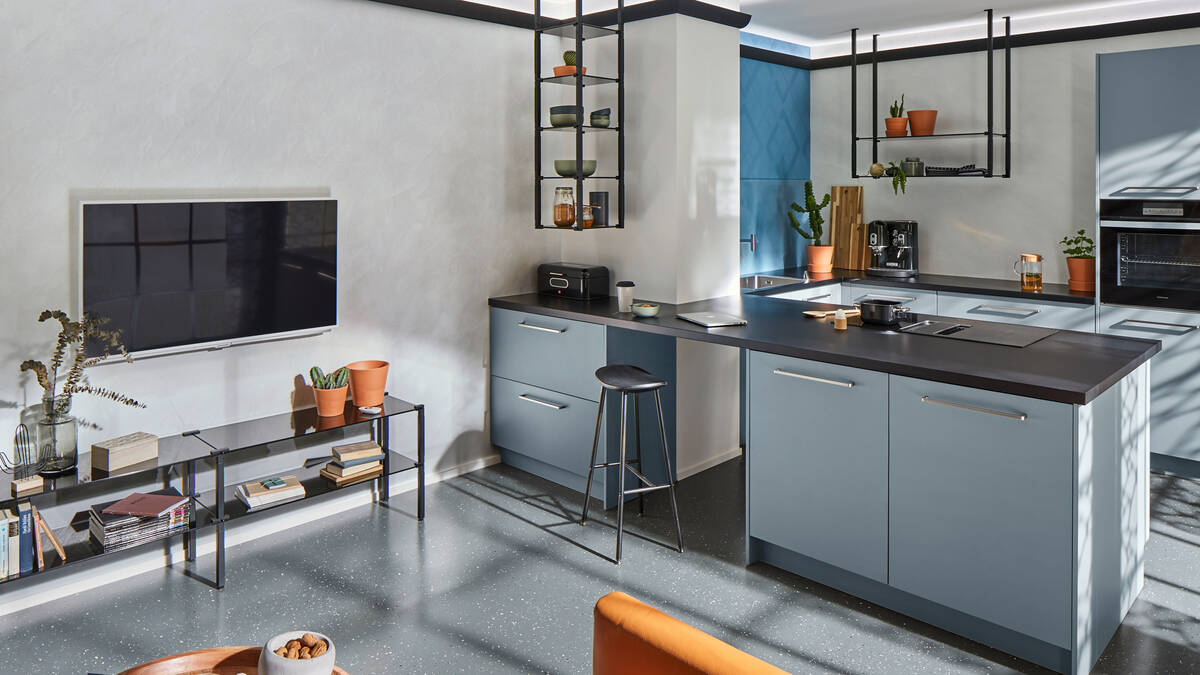 +1
Everything on the watch list
Product noted
Product saved for 30 daysTo the notepad
The product could not be saved.
Please try again.
Cool loft style
The small kitchen with countertop takes inspiration from industrial design concepts
Do you want a casual, urban loft style for your dream kitchen? Do you like the charm of converted no-frills commercial spaces? Then you will definitely love the linear signature and functionality of the fixtures and fittings. This line makes a clear design statement with metal, cool surfaces and loft influences. The trendy industrial style can also be perfectly paired with high-quality kitchen appliances.
Visible functionality meets minimalist colour schemes
Bold accents with metal shelves, cool colours and industrial terrazzo-look flooring: These features are all reminiscent of lofts. The black worktops connect the counters and the small seating area to the kitchen's workspace. This visual bracket matches both the black metal in the shelves and the oven. The stainless steel and shiny chrome in the sink and kitchen tap blend in perfectly with the serious industrial style. And the matching hob and sink are flush-mounted into the worktop for a practical and aesthetically pleasing kitchen. The back wall of the alcove adds an extra touch of class to the high-end kitchen tap as it has been decorated in a different colour.
Highly functional washing-up hub
The sink and tap make a well-oiled team: The
sink combi unit
speeds up chores with its innovative water control on the front rim of the sink. While the water can be conveniently turned on and off at rocker lever, the pull-out spout extends to 76 cm in length for ultimate flexibility. One touch of the
Select push button
on the spout is all it takes for the water to flow to where it needs to be: the extra-large sink or somewhere else within reach.
Trusted partners
Find bathroom showrooms in your area
hansgrohe Loading showroom data
An error occurred. Please reload the page.