Interior design ideas for small spaces
Your bite-sized dream kitchen – harmonious design with a small floor plan
The kitchen can be harmoniously coordinated, even if the floor plan has limited space. The wood surfaces and warm tones of the open-plan kitchen unit help it to blend in nicely with the living area. High-end technology make cooking effortless and natural in this kitchenette of your dreams. Be amazed by this compact feel-good kitchen.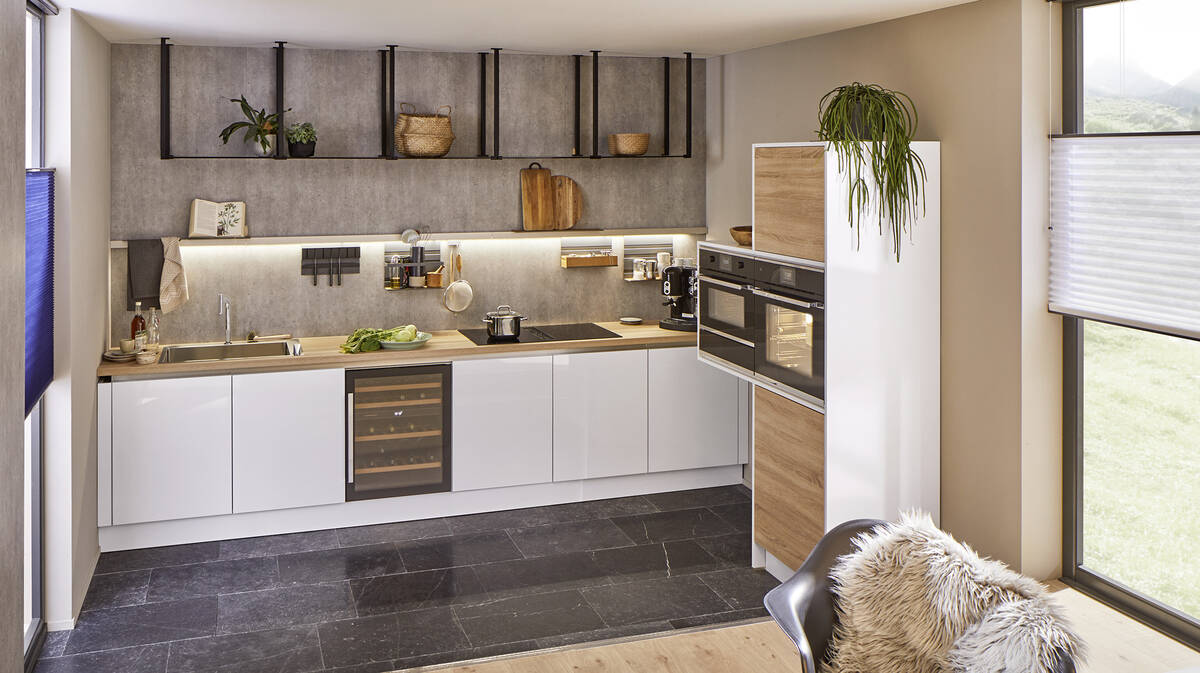 +1
Everything on the watch list
Product noted
Product saved for 30 daysTo the notepad
The product could not be saved.
Please try again.
Harmonious and high-end
This built-in kitchenette makes a big impact
Do you dream of a seamless-looking kitchenette? Maybe the built-in kitchenette will be to your taste. With its matching colours and materials, it is both functional and stylish as the kitchen combines naturalness with a touch of elegance in a small space.
A warm mix of materials for an open-plan kitchen
Wood and tiles combined with concrete-look wall panelling create a natural vibe. The black industrial-style metal shelves continue the theme of authentic materials in the kitchen. And the glossy white surfaces create a stylish contrast to this. The open-plan kitchenette and living room create transparency, while switching from stone to wood in the flooring clearly distinguishes between the two zones. The smart technology in the kitchen unit is also a major selling point: The extractor hob gets rid of kitchen smells and frees up the back wall for you to use as you like. The tall cupboard, which transforms the kitchen unit into an L-shape, tastefully places the spotlight on the high-tech appliances with bold wood accents.
Plenty of room for functionality in the kitchenette
The stainless steel
sink combi unit
blends in perfectly with this balanced mix of materials. The kitchenette benefits from the sink and high-end kitchen tap being a well-oiled team. The extra-large sink and the matching tap are an aesthetically pleasing functional unit. Water can be conveniently controlled on the rocker lever on the front rim of the sink, while the 76 cm long pull-out spout extends the working radius in the compact kitchen. Pressing the
Select push button
on the spout sends the water to the required place in the required jet type. It can be controlled single-handedly, which wows any budding chef whose every move needs to be perfectly executed.
Trusted partners
Find bathroom showrooms in your area
hansgrohe Loading showroom data
An error occurred. Please reload the page.