Cosy and welcoming
Dream kitchens with added comfort
The liveable kitchen is about more than food prep and cooking: There is space at the table for people to sit together, chat and enjoy each other's company. The timelessly modern combination in black and white is paired with a welcoming dining area. Warm wood and comfy seating connect the various areas. Functional ingredients with design quality are the icing on the cake for your dream kitchen.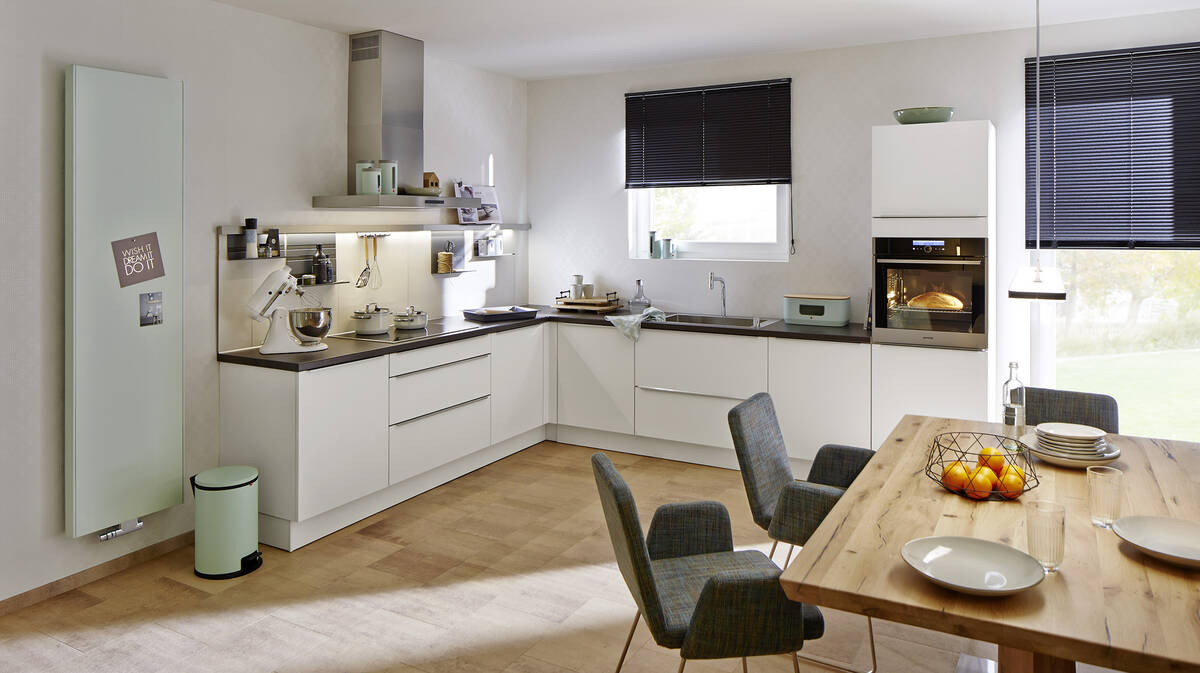 +1
Everything on the watch list
Product noted
Product saved for 30 daysTo the notepad
The product could not be saved.
Please try again.
Eat better, stay longer
A modern kitchen to live in
Do you dream of a
cosy kitchen
with a large dining area where people like to hang around and enjoy the
snug atmosphere
? Then you will love the mixture of wood, comfortable seating and a modern, functional kitchen. People congregate around the lavish table for good food and conversation, while the technology is tucked away in the background. The timelessly modern kitchen with white surfaces creates an elegant contrast to the black worktops. And warm materials make it feel like home.
The black and white kitchen goes great with wood
The elegantly rustic wooden table on the parquet flooring becomes a visual attraction. Padded seating adds to the feeling of cosiness. The setting is rounded off with subtle splashes of colour and accessories: Mint green kitchen assistants meet black worktops, all of which matches the sink's cool design.
Convenience at the kitchen sink transforms it into a feel-good room
The minimalist
sink combi unit
is great in this kitchen. The wide high-quality stainless steel sink lies flat on the black worktop. The extra-wide sink (internal measurement: 66 cm) has plenty of room for large pots and even a baking tray: Very practical when there is plenty to prepare for the family and guests. The matching kitchen tap and pull-out spout also boast an extra-large working radius. The 76cm pull-out length makes work convenient while the
Select technology
on the spout single-handedly simplifies water control: Turn the water on and off at the touch of a button to use water with perfect aim.
Trusted partners
Find bathroom showrooms in your area
hansgrohe Loading showroom data
An error occurred. Please reload the page.