Wash basin: product & style consultation
Advice on finding the right tap
There are more options for an attractive wash basin than you might think: taps with a round or angular design, a pin or bow-shaped handle. With no lever, mounted to the wall or floor-standing. We show you styles to suit and offer advice on installation for your bathroom expert. No matter the budget, you will find the right tap here.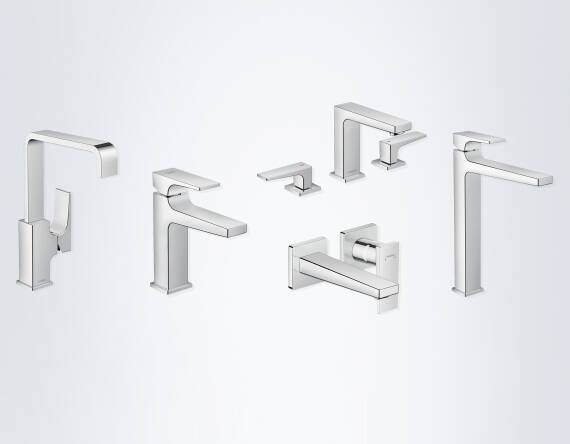 Tap replacement, concealed installation or bathroom renovation?
Let's run through the options:
Small-scale solution: Spruce up your wash basin with a new tap.
Medium-scale solution: Opt for innovative installations behind the scenes or on the rim of the sink. The tap AND wash basin will be replaced.
Large-scale solution: Rebuild or plan a complete renovation of your bathroom.
1. Nice, fast, low-cost: tap replacement
Time for a new tap? The following products can be effortlessly fitted to standard wash basins:
Single lever taps 
User-friendly mixer taps for controlling water temperature and volume with one hand. They sit on a wall-mounted wash basin or a free-standing wash bowl.
Single hand basin taps with swivel spout 
A mixer tap with a tall, curved shape for more room to move at the sink, with the added convenience of being able to fill tall/large containers. The swivel spout is also an excellent helper when cleaning ceramics.
Single lever taps for wash bowls 
Tall, slimline taps, also known as the "Highriser", look elegant and can be installed behind/next to (counter top) wash bowls for a shiny and modern ensemble.
Two-handle taps for two-handed operation add classic elegance to bathrooms. The handles for cold and hot water are attached to the right and left of the tap spout (or next to it) so that the temperature and volume can be set separately. Add gloriously nostalgic bathroom flair with star handles or hints of gold.
For more convenience and freedom to move, you can get almost every tap type in a range of heights from hansgrohe. From a mini hand basin to a spacious built-in sink, creating the largest possible
ComfortZone
 will depend on your wash basin.
2. Innovative, user-friendly tap solutions and perfect tap/wash basin combinations ((H3))
Do you like unusual design and want to try something other than a mixer tap? You have the following options:
Design tap without lever 
Ultra-modern and minimalist design: Stop and start water at the touch of a button with the intuitive Select taps.
3-hole basin taps
Two separate control elements – e.g. traditional star handles, ergonomic lever handles or minimalist zero handles – are flush-mounted in the rim of the sink on the right and left side of the free-standing tap. So the water flow and temperature are controlled with two hands. This premium tap, which requires three holes in the wash basin, adds a hint of nostalgia to bathrooms with a traditional design.
Wall-mounted single lever taps 
These taps are installed with a concealed base set, so the taps protrude horizontally from the wall to create space and a good ComfortZone. Bowls or basins look elegant without a tap and can be easier to maintain. Another nice option is the wall-mounted version with three holes. Do you want to replace the tap and wash basin in one go? Good decision. A stylish duo can really enhance your bathroom. We recommend doing the hansgrohe ComfortZone test to make sure everything matches up, both in terms of function and style. hansgrohe has tested more than 12,000 tap and wash basin combinations so that you can make the right choice.
3. New dream bathroom with matching bathroom taps
Design your very own feel-good oasis in which all bathroom taps were made from the same mould. We recommend selecting products from one design range so that everything matches. That way, your great taste will shine though at the wash basin, shower, bath tub and bidet. Discover the dainty
Metropol tap range
, for example, with its winning formula of parallel lines and angular edges. We have an extravagant design option for your wash basin here:
The floor-standing single lever tap 
Rising up out of the ground, these extra-tall taps look amazing next to modern wash basins. You need to allow plenty of space to feel the full effect.
Style guide: modern, classic or avantgarde design?
Which design do you like? Or should we say: What is your bathroom's current style? If your new tap matches the rest of your bathroom, that's great. If you want to buy more than one bathroom tap at once, it is best to harmonise the style of the taps, showers and chrome accessories. If you are in the market for a totally new bathroom, you can make all your design dreams a reality. What appeals to you right now?
Modern style
If you prefer clean lines and understated design, you will definitely love our modern tap ranges. With these timelessly beautiful taps, you have the choice of round, curved or angular, geometric shapes. It's all a matter of taste.
Classic style 
If you have a penchant for stylish curves and elegantly playful design, you will be mesmerised by our classic tap ranges. Metropol Classic with its subtle splashes of gold is also perfect for upscale and nostalgic settings.
Avantgarde style 
If you want extraordinary and sensuous design, you will love this avantgarde tap range: PuraVida. With high-end surface finishes in white and chrome, sculptural design and flowing curves, these taps are miniature works of art.
Still not bowled over by choice? Take inspiration from our bathroom ideas – they're what dreams are made of. Simply
take the style test
and go with your gut.
Our advice: Whichever tap you opt for, please have it installed by an expert.
HGHBWMediaGalleryImageElementComponentModel (8802633319484@4)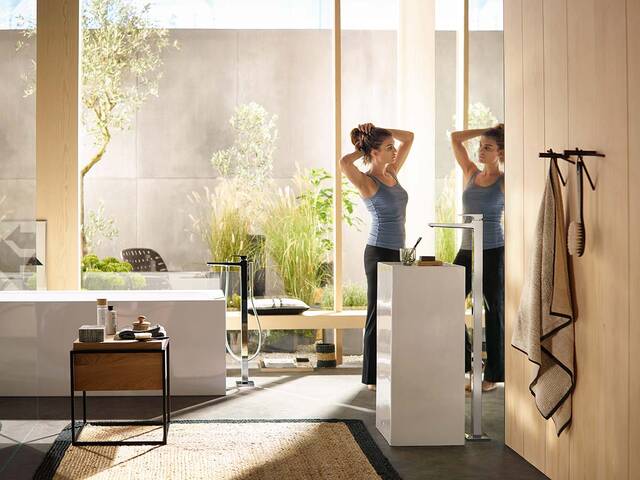 HGHBWMediaGalleryImageElementComponentModel (8802633516092@3)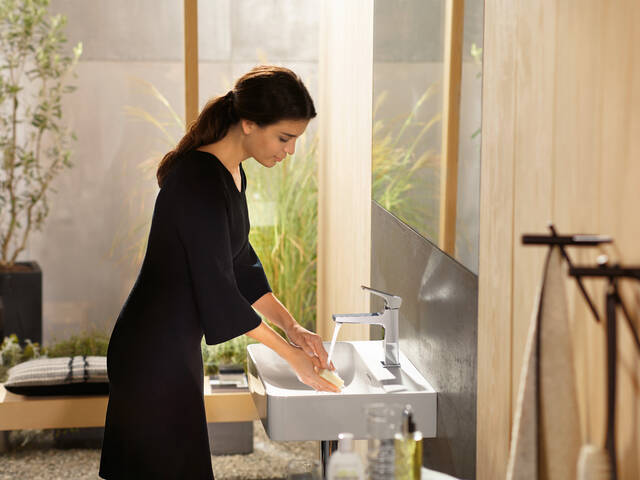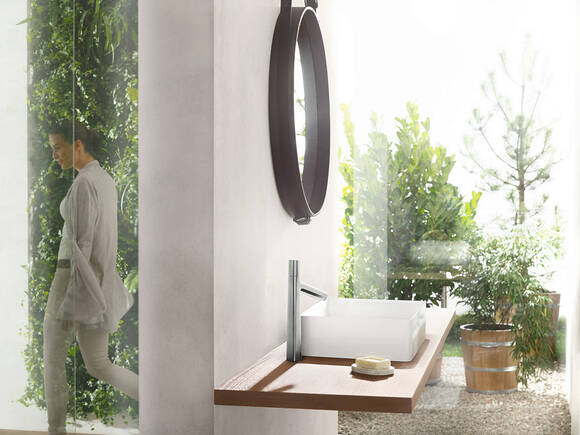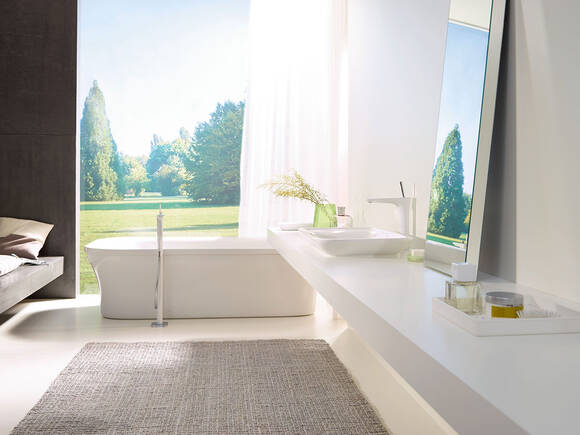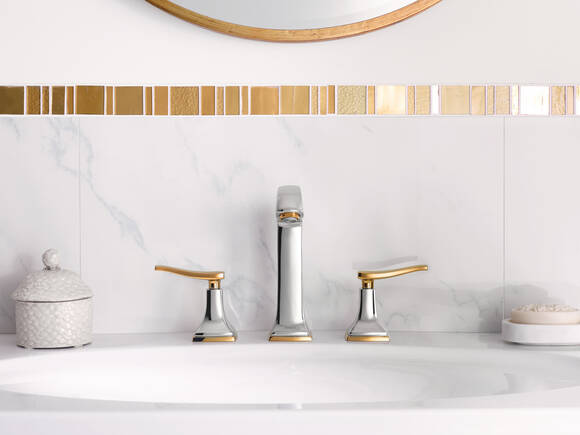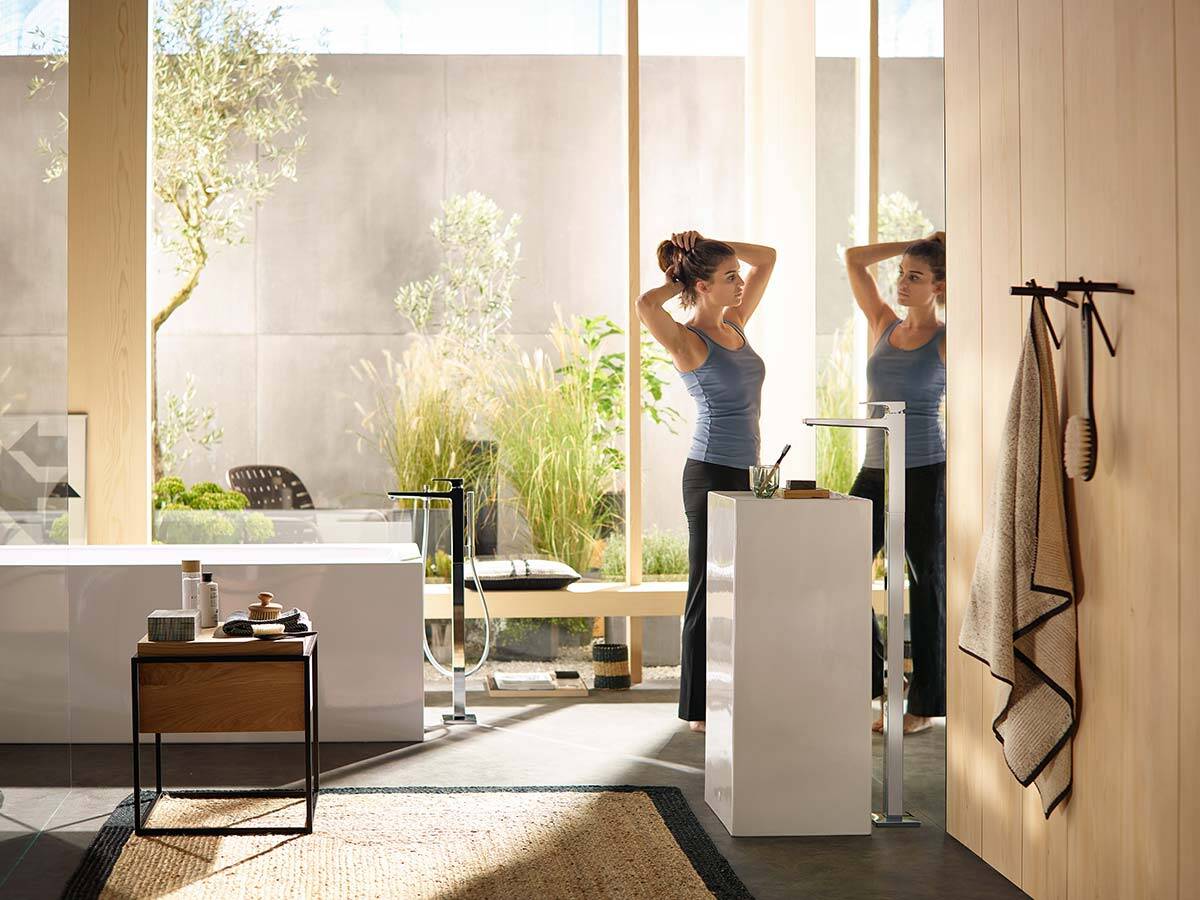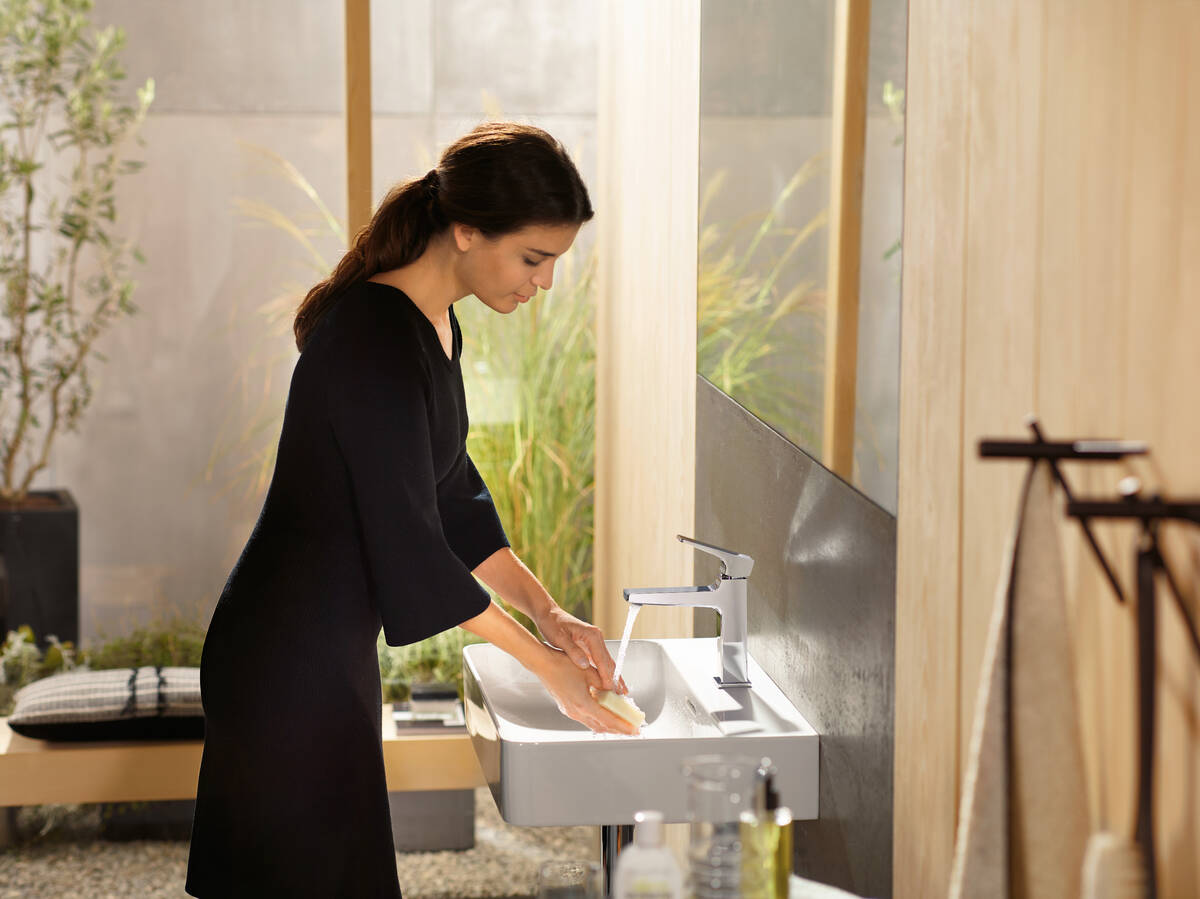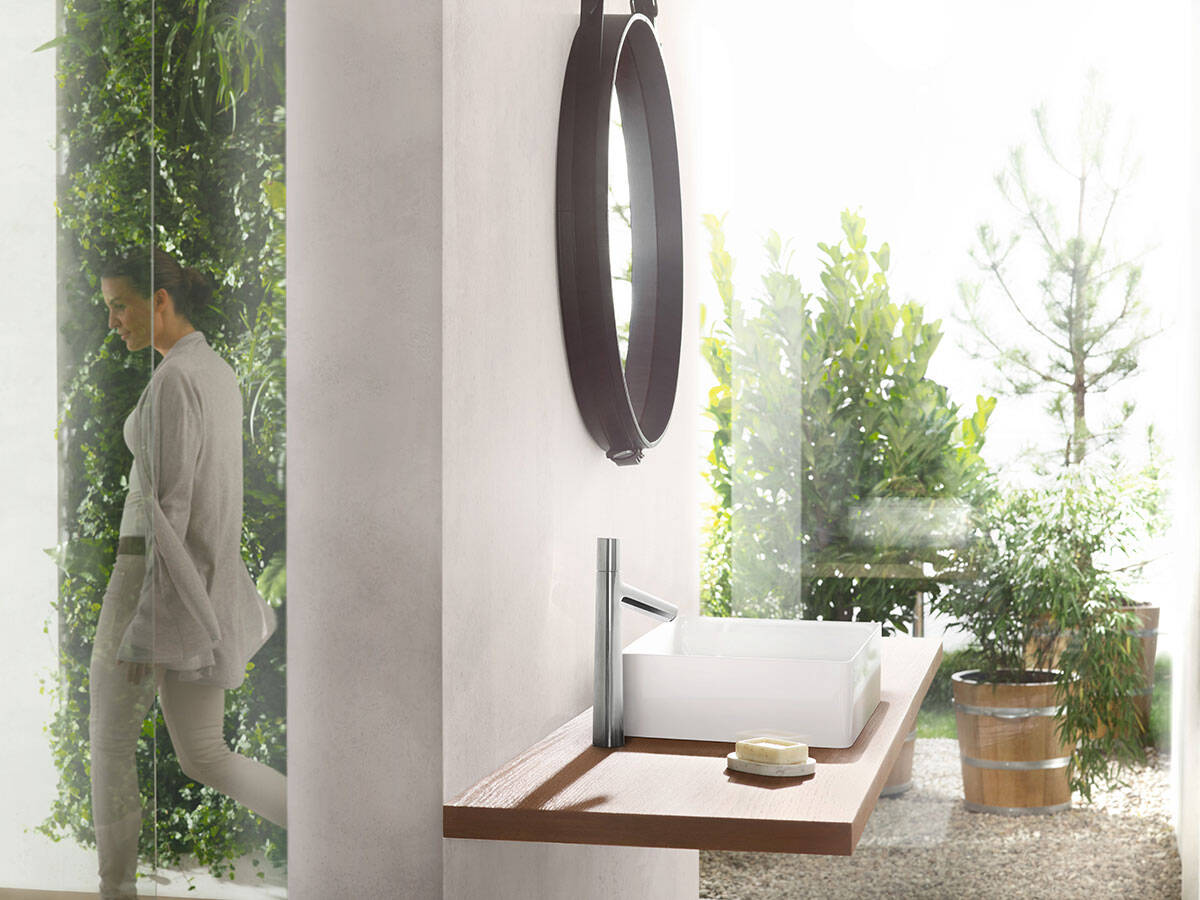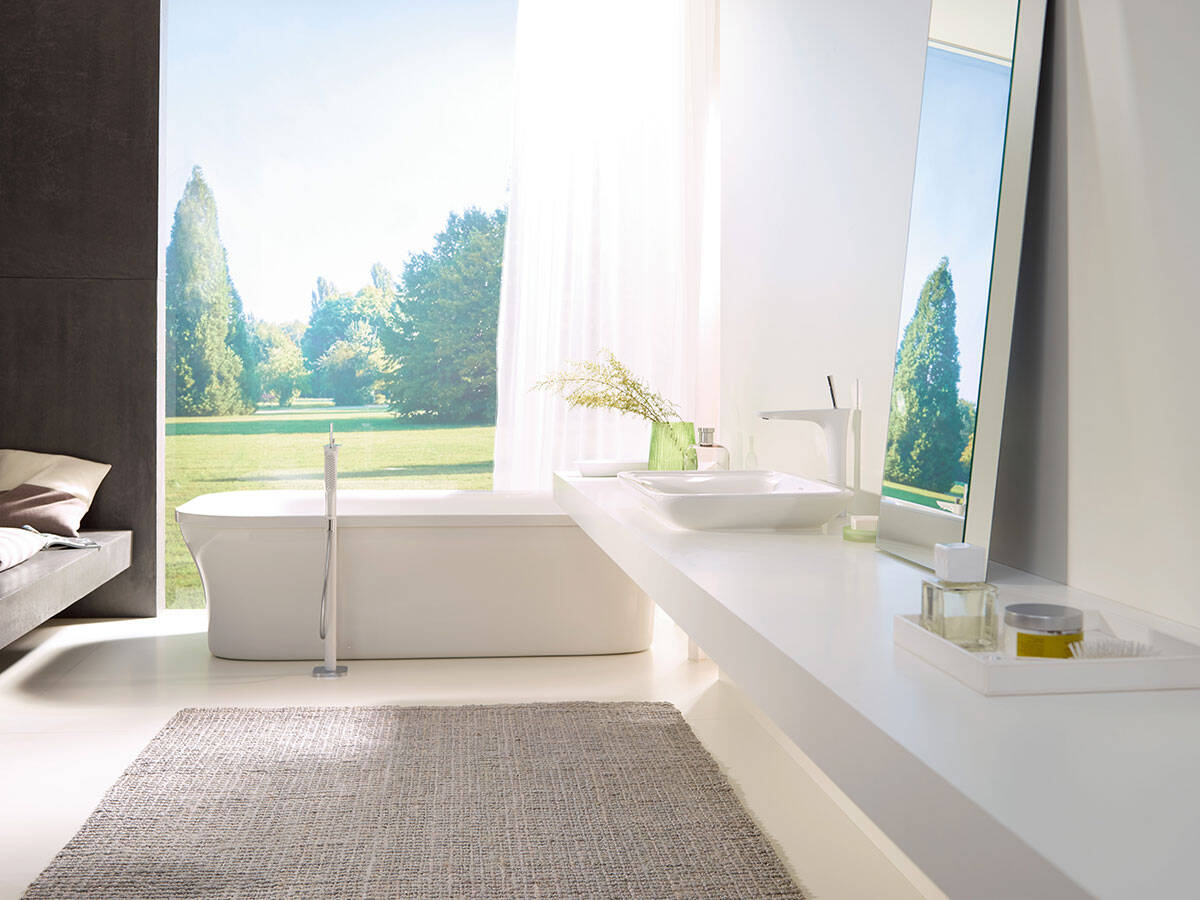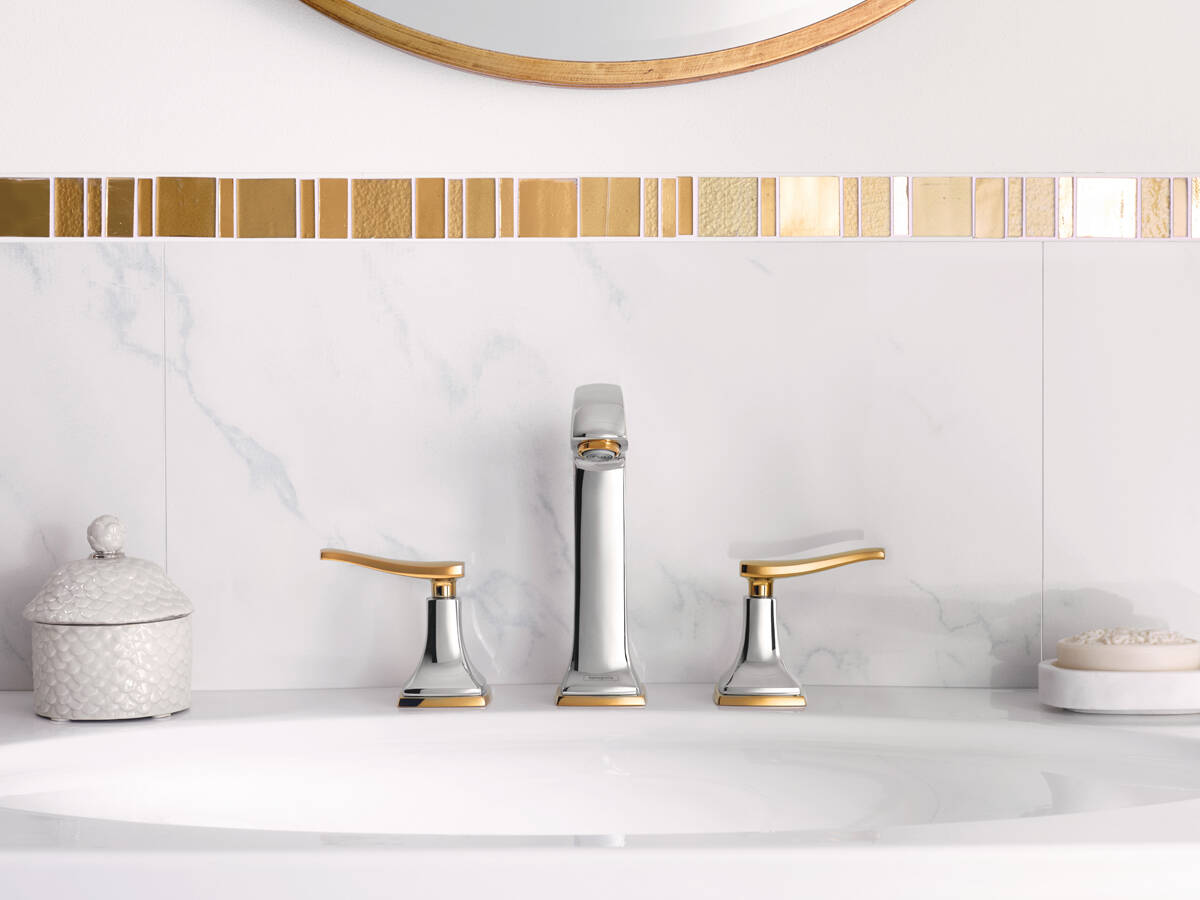 Glossary: a little A-Z compilation for tap customers
We use our expertise on taps to explain other terms and products around the wash basin and provide in-depth information on previously mentioned taps.
Waste sets
Most taps come with one of two waste sets: either a pull rod or a push-open valve. If a pull rod is built into the tap (via a small hole in the tap body), light pull or pressure will open or close the plug in the wash basin. So the retained water drains away without getting hands wet. The water can be quickly and conveniently drained with the push-open version with a quick push of the pressure plug, which is not connected to the tap and so can be used effortlessly.
Non-contact taps
Electronic taps feature an infrared sensor. They are very economical as water will only flow if hands are near the sensor. As these taps are barely touched, they do not get caked in soap or limescale, making them easier to clean. And hygienic, as there is a reduced risk of infection through germs. These sensor-controlled water sources are therefore highly recommended for public places and in the health care sector. Electronic taps can be battery-operated or connected to mains electricity. The temperature can be set on a small control unit in/on the tap body.
Care taps
In the sanitary industry, "Care" is synonymous with taps designed to suit the needs of the elderly or people with restricted mobility. This translates to longer, sometimes curved, operating levers that are generally easier to reach and use. Care taps are also perfect for timeless cross-generation bathrooms.
CoolStart taps
In everyday situations, there are countless situations in which just a splash of cold water is required. The problem is, the continuous flow heater or circulation pump on standard taps starts up immediately when the handle is in the middle position – a waste of energy with every use. But if taps are fitted with the eco-friendly hansgrohe CoolStart function, hot water will only flow when you really need it. There is a simple trick to it: It is not possible to move the lever to the right. So only cold water comes out at first. If you want hot water, you will need to deliberately move the lever to the left. A smart way to conserve resources.
Rotatable spout
A rotatable spout is a moving tap spout that significantly increases the working radius around the wash basin. The water jet is directed to where it needs to be and increases the ComfortZone when rinsing out your mouth, washing your face or wet shaving. And cleaning the sink becomes more convenient as cleaning foam can be rinsed away more effectively.
Non-pressurised taps, low pressure taps
Households with a non-pressurised hot water supply need a low pressure tap. Non-pressurised storage water heaters, also known as open vent boilers, are needed for the hot water supply. Low pressure taps are mixer taps in which the spout is always open. Once the tap is turned on, cold fresh water enters the boiler and the hot water is pushed upwards. Low pressure taps therefore respond to the water expansion with a drop-for-drop overflow during each heating phase (non-pressurised system). Important: If an open-vented water heater is combined with a conventional tap, it will damage the boiler! Conventional taps completely lock the spout in the closed position and do not permit any overflow.
The easy way to install hansgrohe taps
hansgrohe taps can be fitted quickly and easily as they feature flexible connections to enable a large working radius for the angle valves. The plumber will really appreciate it, as there is no need to cut anything to size and standard tools can be used for the installation.
Material, surface
You will notice the difference with premium taps as quality is the priority in both the design and the material. At Hansgrohe, taps are elaborately chrome-plated to add a touch of elegance. This creates an extra layer of resilience and durability and a beautiful shine to their surfaces. The cartridge – the motor and core of every tap – is also made in Germany. When it comes to bathroom products, safety, hygiene and premium functionality are essential. This is why the material and inner workings of hansgrohe taps are always excellent. It goes without saying that the materials used fulfil the applicable standards and regulations. Find out what made by hansgrohe quality actually means here.
Free-standing taps, floor-standing taps
Free-standing taps are attractive design pieces and head-turners in the bathroom as they rise up out of wash basins, bowls or bath tubs like sculptures. They are installed either on or next to the (counter top) wash bowl. The floor-standing tap is a highly elegant variety of free-standing tap. It is best matched with free-standing wash basins or bath tubs. Especially if the bathroom features a lavish design. These taps are installed on the floor. The bathroom specialist will attach it to an underfloor water connection (using a base set).
Select taps
Select your bathroom pleasure with the Select function on ultra-modern taps and make do without a lever. This gives the taps an attractive slimline look and helps them to conserve resources as the fast-acting button that controls the water flow here makes it so much easier to shut off the water. The temperature can be conveniently set at the top, on the moving part of the tap.
Outlet valves
Dispensing or outlet valves are simple taps through which only cold water or pre-heated water flows (e.g. from an angle-valve thermostat). Perfect for basements, laundry rooms, garages, guest WCs or schools/nurseries.
Trusted partners
Find bathroom showrooms in your area
hansgrohe Loading showroom data
An error occurred. Please reload the page.