Product consultancy for shower & bath tub
How to find the right shower hose
When shopping for a shower hose, it is easy to feel overwhelmed: Which length is best? Which connections and finishes match the taps and shower in the existing bathroom? Find out what matches, fits and works – and how the models differ – here. When making your purchase, please also consider your health and opt for a shower hose compliant with drinking water standards.
Don't save on quality, comfort or design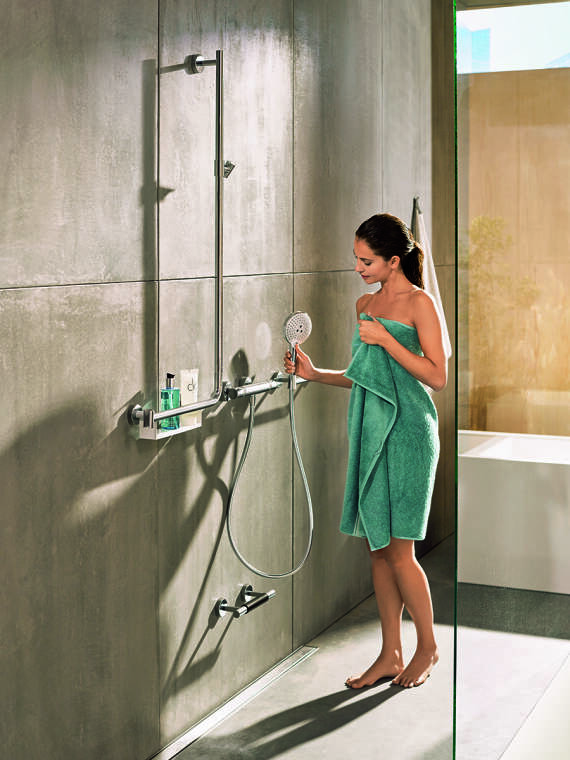 There is an abundance of shower hoses: they can be bought at building supplies stores, discount supermarkets, specialist bathroom retailers or online. You may not be so concerned about the quality and aesthetics of your shower hose compared to your taps, shower heads or bathroom furniture. Nevertheless, if you have the choice, wouldn't it be nice if the hose stood the test of time and blended in perfectly with your overall bathroom design? Or if it cascaded nicely, with no kinks or twists? A shower hose that scratches or rubs the skin is also unwanted when showering, having a bath or washing hair. Or even one that releases plasticizers (phthalates).
Any good shower hose is certified as safe for drinking water.
Our recommendation, if we may, would be to buy a shower hose certified as safe for drinking water. If the water is polluted with harmful substances containing sub-standard plastics, suddenly that cheap purchase stops looking like a bargain. All hansgrohe shower hoses are suitable for drinking water. The high-end brand uses only flawless, high-quality parts and materials. With these quality hoses, the water only comes into contact with materials that are safe for use with drinking water. The same can be said of good hand showers.
A convenient shower hose: Which length?
The length of your shower hose depends on several factors: Do you shower in the bath tub or shower cabin? Do you sit or stand to shower? Are you tall? Do you have a shower rail for sliding your shower support above you? Does your shower hose hang from a low bath mixer or a thermostatic shower mixer, installed at height? Or does your water come straight out of the wall (as it would in a concealed installation system)? You need to take your individual bathroom setting into consideration when judging the length.
Standard shower hose lengths are:
1.25 metres: The perfect dimensions for the bath tub, so that the hose does not get in the way when you enjoy a bath.
1.60 metres: The perfect dimensions for the shower as it enables people to move freely for a more enjoyable shower.
2.00 metres: for plenty of freedom if you (stand to) shower in the bath tub. This way, even though the tap is mounted low down, you can still enjoy the generous height of the shower.
High-quality shower hose: Which material?
Long-lasting shower hoses are made of robust, high-quality materials. Otherwise they kink, tear, have holes or become porous and soon spring a leak. A glimmering hose is a bad hose – and a waste of water. The classic metal hose once stood for high-quality, but these days good plastic hoses are also durable. Plenty of benefits: Plastics are gentler on your skin and on the bathroom's ceramics and are easier to clean. Above all else, make sure the shower hose is described as "kink-proof" or "kink-protected". This will prevent annoying water blockages or premature wear. Also, do the "scratch test" in the shop: How does the shower hose feel against skin? Hands off any poor-quality finishes and scraping materials!
Cleaning: Clean your shower hose with any mild bathroom cleaner available in the shops. High-quality plastic hoses are easy to clean and hygienic because they lack grooves where limescale and other residues can build up.
Sustainability: The shower hose material should be harmless and sustainable, recyclable, too.
Beautiful shower hose: Which design?
A classic metal aesthetic or modern plastic look? It's all a matter of taste. For metal designs, we recommend purchasing a shower hose with an additional plastic jacket so that hair or skin don't get pinched when showering. As for the colour, hoses can be made to match chrome showers and taps with chrome film. The shining metal look will look timeless and elegant in your bathroom. The trendy metal coil finish made of plastic, which "fakes" the classic metal hose, creates visual highlights. The white hose is perfect for a purist look as it looks smart with white hand showers or tiles. Trend colours such as gold, green, blue or red can create fresh contrasts.
Fitting shower hose: Which connections?
A high-quality shower hose is easy to screw on and unscrew. Replacing is easy. To connect your new hose seamlessly to the tap and shower, please check the connection sizes before purchasing. Most shower mixers have a 1/2 inch thread, and almost all shower hoses are standardised to this size (on both ends). The 3/4 inch thread is much rarer. (Tip: Connectors can be added to make these connections fit 1/2 inch hoses). Still unsure? Then simply unscrew your old hose and take it with you to the shop. It is also worth taking a look at the quality of the connections and the thread on the hose: A high-quality nut – made of brass, for example – is an additional plus. You should also check whether the packing contains the two seals needed for installation.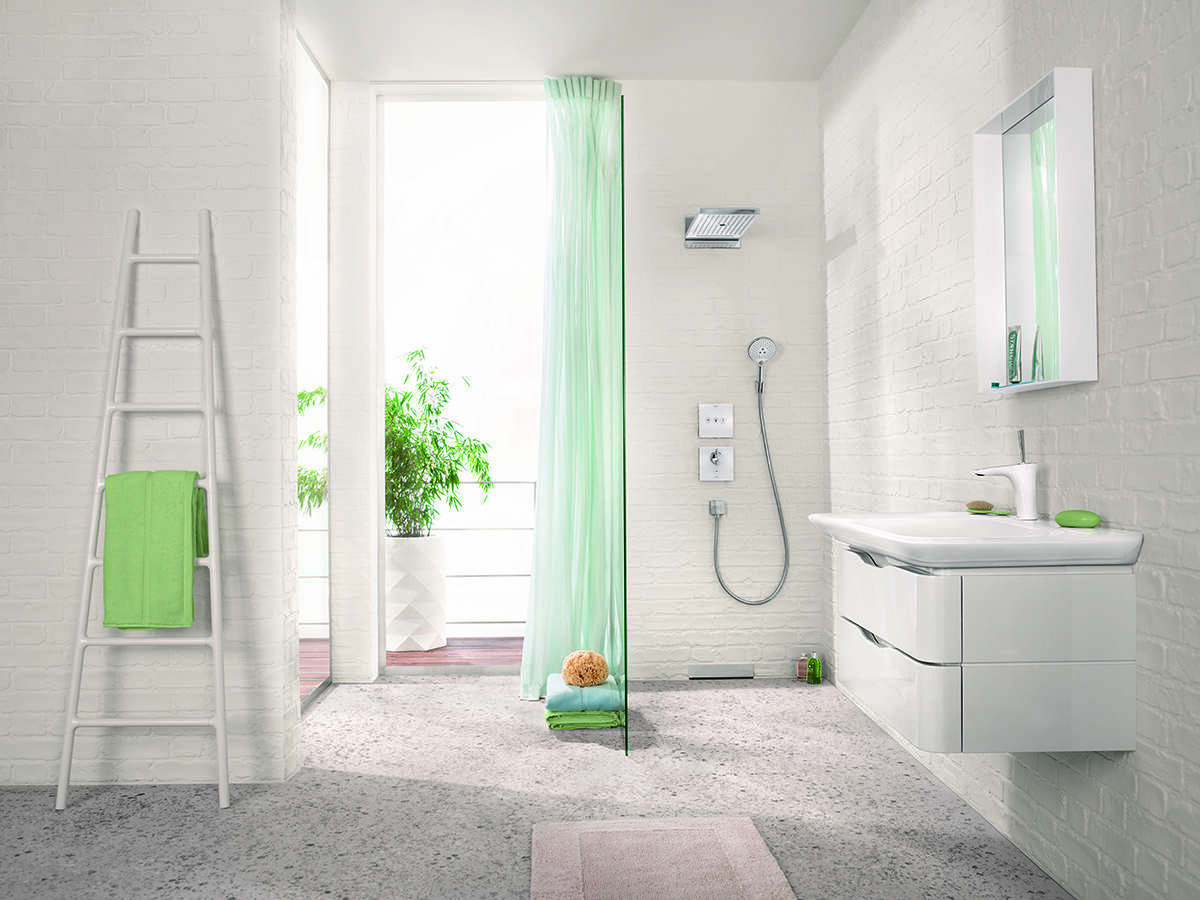 hansgrohe shower hoses: High-quality and sophisticated in metal or plastic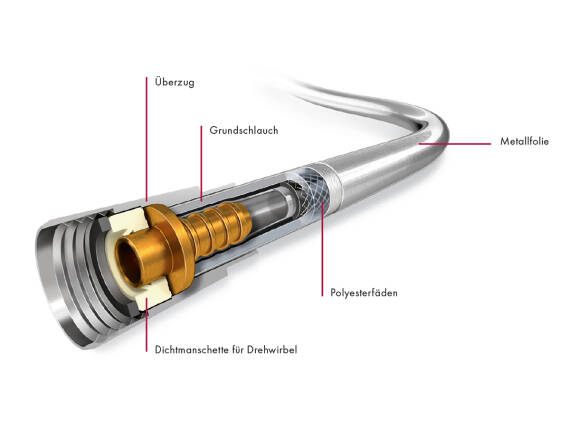 Technically refined, high quality and aesthetically pleasing: These words describe hansgrohe taps and showers as well as hansgrohe shower hoses. Most of the premium products are manufactured in the hansgrohe factory in the south-west of Germany, so they proudly wear the label: "Made in Germany".
All hansgrohe shower hoses are:
Safe for use with drinking water and phthalate-free;
Kink-proof/kink-protected and watertight;
Hard-wearing and robust;
Scratch-resistant and skin-friendly as they are made of plastic/sheathed in a plastic jacket;
Extremely pressure-resistant and guarantee tensile strength;
Low-maintenance and easy to clean;
Standardised – the union nut fits all hand showers;
Easy to screw on and unscrew;
Sustainable as they can be recycled.
 
There's a knack to sophisticated shower hoses
Learn more about the various materials and designs from the hansgrohe range here. The following shower hoses are available in the standard lengths of 1.25/1.60/2.00 metres. The models made of robust plastic are highly flexible, so the hose cascades nicely.
Isiflex shower hose: The metal-look plastic hose with pivot joints. Economical: Isiflex comes with volume control, so the shower hose regulates the water volume at 5 l per minute with a Select hand shower.
Comfortflex shower hose: The modern metal-look plastic hose with pivot joints.
 
Metaflex shower hose: Plastic hose in metal coil finish.
 
Senosoflex shower hose: Metal hose with transparent plastic coating.

Do you still remember the analogue days, when the telephone cord would get knotted? The same thing can happen with shower hoses, and it's annoying. However, the "ball bearing mounted pivot joints" in the hansgrohe Isiflex and Comfortflex hoses prevents annoying tangles in the shower and bath tub. How? The shower union nut is designed in such a way that it can rotate freely. This means that the hose cannot get tangled and will not hinder you while you are showering. It always looks elegant attached to the wall bar too.
Better than bog standard: Shower hoses under scrutiny
hansgrohe has been working on the design and functionality of shower hoses for more than 40 years. The hoses have all the necessary approvals to protect consumers. Many new hansgrohe products even fulfil far more than the required standards – the high-end brand simply has its own set of quality standards. So every shower hose is put through its paces in stress tests, but if you ever do have a reason to complain, hansgrohe shower hoses have an optional five-year warranty.
High-quality shower hoses to adorn your bathroom
Trusted partners
Find bathroom showrooms in your area
hansgrohe Loading showroom data
An error occurred. Please reload the page.