Elegant, nature-inspired kitchen designs
Open-plan kitchen with a natural feel and innovative technology
Use these ideas to combine various natural materials and modern design for a cosy dream kitchen. The models feature plenty of wood-, stone- and metal-look finishes and are installed in an innovative sink combi unit to make chores easier. In the high-contrast fixtures, chrome is harmonised with authentic finishes and rounded off in lively green.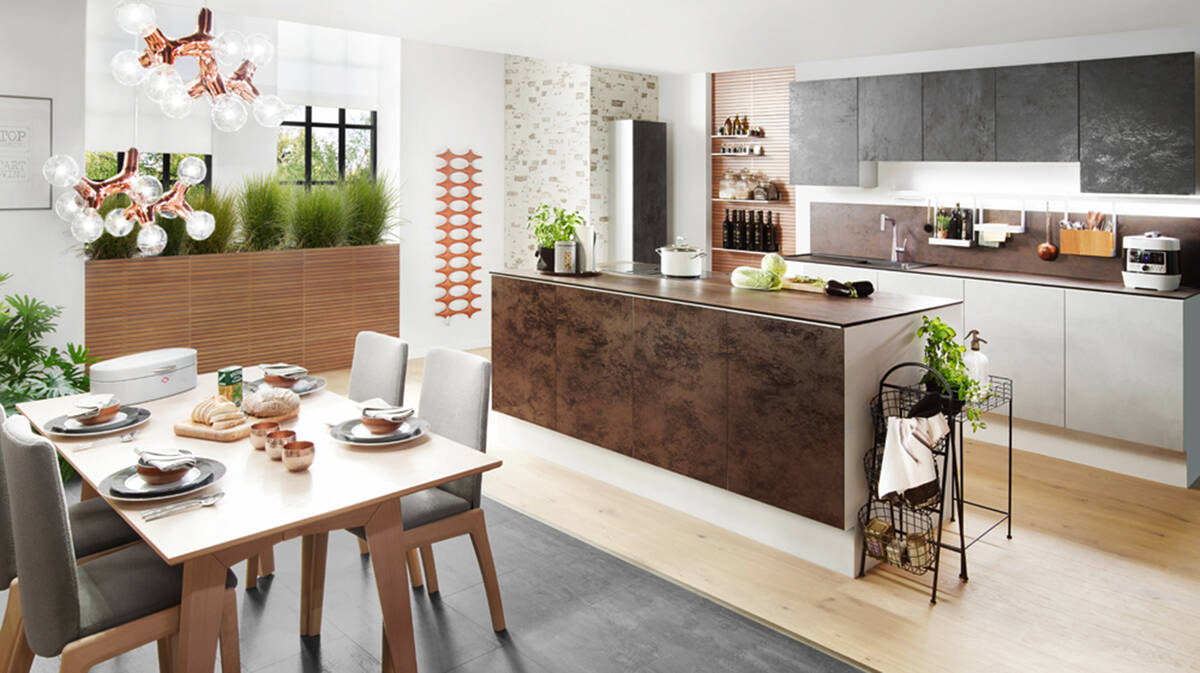 +1
Everything on the watch list
Product noted
Product saved for 30 daysTo the notepad
The product could not be saved.
Please try again.
Ideas for elegant open-plan kitchens
Natural materials meet modern technology
Do you love a natural ambience? Are you looking for ideas for an elegant yet natural design for your dream kitchen? Then you are sure to love the tactile materials and warm tones of the wood and chalcocite in this example. These images radiate sensuality. Are they to your taste? You will not be making any compromises at the so often used kitchen workspace with this tap: Modern hansgrohe technology is combined with references to the natural world in this open-plan kitchen.
The free-standing kitchen island features a trendy weather-worn steel look that adds a vivid splash of colour to this eye-catching piece. The rust-coloured finish is replicated in the wall panel at the sink. The natural look of the wall units in stone grey matches this elegant and rustic look. The SilicaTec granite sink is a continuation of the natural stone theme, the perfect stage for the cool and sparkling high-end kitchen tap that forms part of the innovative sink combi unit: The water flow can be stopped and restarted as you work in the kitchen using the Select push button on the front rim of the sink. Turning the button opens and closes the drain. The ergonomic position of the Select function is highly practical here. And the hand spray with two jet types adds extra flexibility to the sink unit.
The natural flair of the kitchen fixtures is replicated in the dining area. The matching padded chairs around the solid wood dining table create a welcoming ambiance: People are happy to stay a little longer here, be it for breakfast or brunch or even dinner with family and friends. Plants and fresh herbs complete the natural look.
Trusted partners
Find bathroom showrooms in your area
hansgrohe Loading showroom data
An error occurred. Please reload the page.