Raindance Select S with PowderRain
Gentle, soothing and quiet: the new cocoon shower experience
Do you love "cocooning", too? That safe feeling of happiness within your own four walls? Then you will surely love the idea of your own private spa at home. The thousands of micro-fine droplets in the new hansgrohe PowderRain jet type will envelop you in a sensual cocoon. Immerse yourself in your new sanctuary, let your thoughts drift and enjoy quiet, soothing, deep relaxation.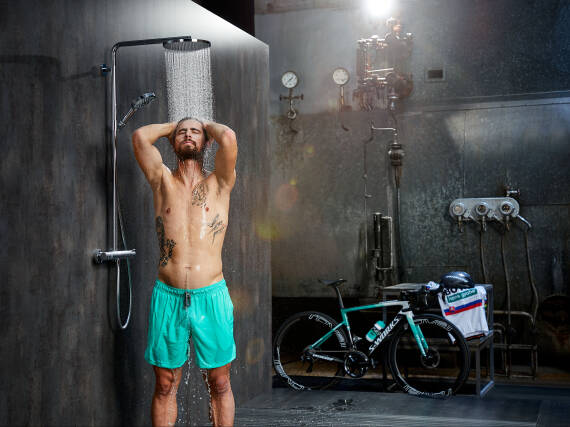 PowderRain: relaxing and gentle with micro-fine droplets
A recent study* found nine out of ten consumers agree that hansgrohe PowderRain is "the best shower of all time". No wonder: The new micro-droplets feel wonderful on your skin. And show in the most pleasurable way what water can do when it flows through hansgrohe showers. This fine jet not only treats you to a unique shower experience, but is also so sophisticated that it hardly splashes at all.

An idyllic and super-silent cocoon under the shower
The cocoon of water was designed to be your indulgent, relaxing retreat. Providing you with that warm, safe feeling to pamper you in your own private oasis of well-being. The gentle jet feels wonderfully pleasant all over the skin. Thousands of micro-droplets spread a sense of indulgent and sensual showering. As if you were standing in the gentle summer rain. What is more, the water flows from the ultra-quiet spray jets. The experts at the hansgrohe sound laboratory have succeeded in considerably reducing the shower noise to a mere whisper. So you can switch off completely during your daily body care routine.

Mini-droplets with maximum effect for minimum splashes
PowderRain is gentle AND effective. The many thousands of droplets rinse out shower gel and shampoo really thoroughly. And the new jet type hardly produces any splashes. This means: less limescale = less cleaning. That's good news in any bathroom. Especially in the open showers that are currently in fashion.
PowderRain in hand showers, shower sets and shower systems

Enjoy PowderRain with a few minimal changes to your shower area. If you'd rather completely overhaul your bathroom, we can also provide a comprehensive solution.
The new micro-droplets are produced by the three-spray Raindance Select S 120 3jet P hand shower. The other two jet types are called "Rain" (full jet) and "Whirl" (massage spray). Switch between them with the Select push button. Simply screw the new hand shower onto your shower hose. Installing a matching shower rail is also straightforward: with the Raindance Select S 120 3jet P shower set.

Would you like to be fully enveloped in the micro-jets? If so, you can enjoy beautifully soft PowderRain as it cascades from the Raindance S 240 1jet P overhead shower.

The all-round winning combination of overhead shower, hand shower (both with PowderRain) plus thermostatic mixer is available with the: Raindance Select S 240 1jet P showerpipe.
Technology can be so comforting
hansgrohe has taken the water jets in completely new directions to increase your sense of well-being. In fact, PowderRain features innovative technology. The individual PowderRain jets have six fine apertures (instead of just one), which break down the spray into micro-droplets. This is what makes this jet much finer than standard shower jets and the water caress your skin as lightly as a feather.
hansgrohe PowderRain products come with other innovative technologies to make your life even more convenient: the Select push button and QuickClean.
Please hire a specialist bathroom retailer to install overhead showers and thermostatic mixers.
*1,500 consumers tested the hansgrohe PowderRain in December 2018 with trnd, an interactive marketing community in Europe.
Trusted partners
Find bathroom showrooms in your area
hansgrohe Loading showroom data
An error occurred. Please reload the page.