For fans of classic design
Classic bathroom in nostalgic design, for contemporary water indulgence
A classic bathroom brings traditional bathroom culture to life. Its nostalgic charm makes the classic design look playful, yet elegant. White bathroom ceramics, wood and gently curved mixers work together in harmony in a bright, airy ambience. Behind the retro look we discover modern technology for contemporary and convenient water indulgence.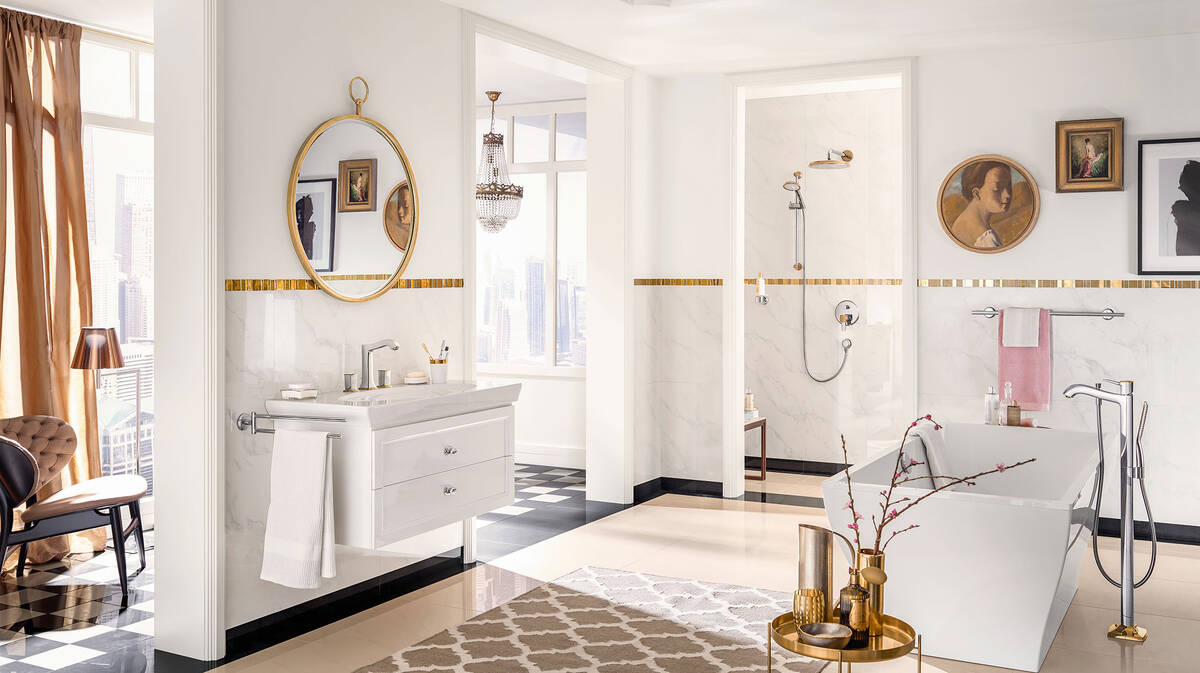 +5
Everything on the watch list
Product noted
Product saved for 30 daysTo the notepad
The product could not be saved.
Please try again.
Vintage with a playful elegance
Classic shapes, gold finish and elegant white in the bathroom
Do you want your bathroom to be a personalised living area with an aura of nostalgia? Let your traditional sense of style guide you, and design a bathroom using selected accessories in classic style. In a spacious ambience with a bright atmosphere, various areas of activity encourage you to stay a while. Bring the luxury of exclusive bathroom culture into your home with a free-standing bath tub, a walk-in shower and a chill-out zone in the style of an airy winter garden. The understated elegance of white bathroom ceramics and colour-coordinated wall and floor design offer the ideal setting for classic furnishing details. Antique seating with fine leather upholstery as well as petite dressers and vintage-style side tables are the decorative elements of a nostalgic design.
Nostalgic mixers for contemporary water indulgence in a classic bathroom
In the upscale classic interior, gold accents emphasise the harmony created by wood, natural stone, ceramics and gleaming chrome. The elegant décor transforms nostalgic mixers into highlights of classic bathroom design. With their curved shapes, full of character, the hansgrohe Metropol Classic range evokes the playful charm of original bathroom cultures. At the same time, the combination of traditional elegance and innovative technology guarantees efficient water indulgence.
Trusted partners
Find bathroom showrooms in your area
hansgrohe Loading showroom data
An error occurred. Please reload the page.