The new Avantgarde style in the bathroom
Avantgarde style in the bathroom: with ideas for sensuous design and modern technology
Avantgarde style in the bathroom demonstrates a boldness to stand out and enjoyment of trendsetting design. Exclusive design and intelligent functionality come together in a stylistically unadulterated ambience. The purist architecture freely accentuates the natural stone, fine ceramics and exclusive mixers. This atmosphere of concentrated elegance invites you to tarry a while and enjoy.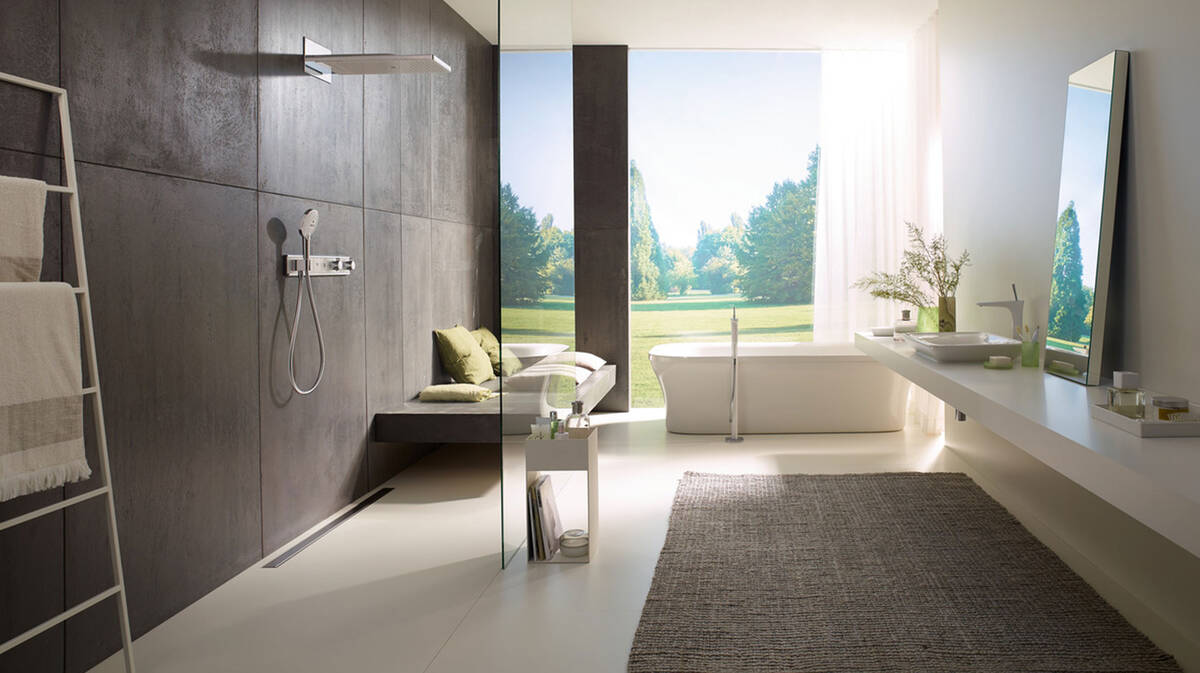 +4
Everything on the watch list
Product noted
Product saved for 30 daysTo the notepad
The product could not be saved.
Please try again.
Avantgarde-style bathroom, designed to appeal to the emotions
Avantgarde bathroom design inspires sensuous, modern style
Do you love the sensuous effect of modern architecture in a nature-oriented environment? Design your bathroom as a place of retreat, with a room-width glass front. This connects the purist bathroom interior to your garden landscape. In an airy ambience that concentrates on the essentials, relaxation is easy. The wash basin, the free-standing bath tub and a floor-level shower are grouped together on natural stone which covers the entire surface area, creating a place of retreat with a feel-good atmosphere. With a seat by the window and a shelf for personal items, the bathroom has a homely character and invites you to stay a while.
Pioneering interior design and technological innovation in harmony
For hansgrohe, pioneering bathroom design is inextricably linked to technological perfection and usability. Mixers from the PuraVida range add highlights to the customised bathroom with their flowing shapes and the organic synthesis between chrome and white. The sensuous interplay of shape and texture blends in perfectly with the bathroom ceramics. The ambience is complemented by light, large-format stone tiles and ceiling surfaces of exposed concrete or pure white plaster. Centrally positioned, the Rainmaker Select showerpipe adds structure to the room. In addition to its vibrant white and chrome finish, its functional perfection enables you to enjoy water in comfort.
Trusted partners
Find bathroom showrooms in your area
hansgrohe Loading showroom data
An error occurred. Please reload the page.